Harrows were used for breaking down lumps or clods as well as covering newly sown seeds.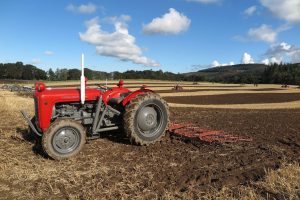 According to Stephens' Book of the Farm in 1908 harrows were "an implement of no small importance; and yet its effects are apparently rude and uncertain, while its construction is of the simplest ordwe. So simple indeed is the construction, that at a very remote period it appears to have taken that form which, in so far as the simple principles of its action are concerned, is almost incapable of further improvement."
Iron harrows were made of many patterns. Most of them were light in draught and made heavy or light according to the work to be undertaken.
If you were looking to purchase a set of zig zag harrows in 1886 you could have chosen a set from a number of Scottish makers. For example, Thomas Hunter, Implement Works, Maybole, manufactured light and heavy harrows of 9 1/2 feet in width. J. & R. Wallace, Castle Douglas, had a 9 feet wide set for £3 15s. Gordon & Coltart, Castle Douglas and Dumfries made a set with 60 teeth for £3.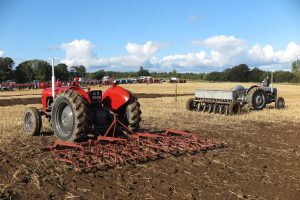 If you were looking to purchase a set in 1952, you would also have had a choice of makers to draw on. They included Lennox M. Blyth, Chirnshide, Berwickshire. His tractor drawn zig zag harrows with independently held tines, pointed at both ends, were reversible. They could be used with Nuffield, Fordson, Ferguson and David Brown tractors. Cruikshank & Co. Ltd, Denny, which made a number of type of harrows, had zigzag ones that ranged from 6 ft 6 ins to 12ft 6 ins in width for either horse or tractor draught. James H. Steele, Harrison Road, Edinburgh, manufactured zigzag harrows with combined whippletrees and transporter. John Wallace & Sons (Ayr) Ltd, Towhead Works, Ayr, was a further maker.
In 1959 makers continued to include Ballach Ltd, Cruickshank & Co., and John Wallace & Sons (Ayr) Ltd.
There are still a few sets of zig zag harrows to be seen around the rally fields today. They are more usually seen at working events. Have a look out for them!
The photographs of the zig zag harrows were taken at the Strathnairn Farmers Rally, October 2016.