Robert Kay of Milnathort is a name familiar to farmers in east central Scotland from from the mid 1920s.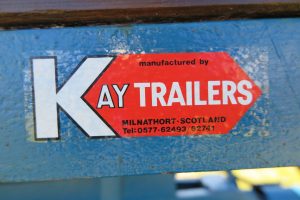 By 1949 Robert Kay had been joined by his son. His business became known as Robert Kay & Son, agricultural implement makers and body buildings. There were further changes: in 1955 the business was known as "Kay Trailers (Robert Kay & Son)". The focus on Kay trailers continued. In 1966 the business was known as "Kay Trailers, Cockamy Works, Stirling Road, Milnathort". It was an agricultural implement maker, motor body builder, smith and tractor trailer builder.
The business was a regular exhibitor to the Highland Show from 1949 onwards and a regular advertiser in the Farming News and Scottish farmer from the late 1950s.
The photographs were taken at the Fife Vintage Agricultural Machinery Club rally, June 2015.