In 1950 the Scottish agricultural implement and machine makers included well-established old firms, as well as others that had been around for decades. A number of new businesses had started after the end of the Second World War. The shape of the industry was changing with the ever-increasing use of tractors and the need for implements and machines to work with them. There was also an ever-increasing need to mechanise and increase efficiency in agriculture.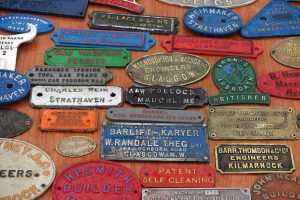 The major implement and machine makers in Scotland in 1950 included the following businesses:
Adrolic Engineering Co. Ltd, Clober Works, Clober Road, Milngavie
Balgownie Engineering & Dairy Utensil Supplies, 631-633 George Street, Aberdeen
Barclay, Ross & Hutchison Ltd, 67 Green, Aberdeen
Robert Begg & Sons, Sharon Street, Dalry
William Begg & Sons, plough specialists, Tarbolton, Mauchline
J. Bisset & Sons Ltd, Greenbank Works, Blairgowrie
B. M. B. Ltd, Hawkhead Road, Paisley
James Bowen & Sons Ltd, 45-49 Pitt Street, Edinburgh
J. D. Bryan, Culthill Works, Murthly, Perthshire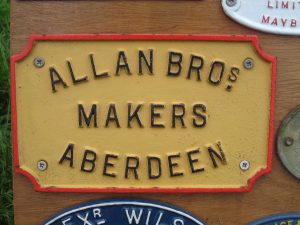 Caledonian Agricultural Co. Ltd, 33-41 Brown Street, Glasgow, and 76-78 Pitt Street, Edinburgh
Cobban of Inverurie, Union Works, Inverurie, Aberdeenshire
Thomas Cochran & Co., 148 Sword Street, Glasgow
James Crichton, millwright and engineer, Turriff, Aberdeenshire
Cruickshank & Co. Ltd, agricultural department, Denny Iron Works, Denny, Stirlingshire
James A. Cuthbertson Ltd, agricultural engineers, Biggar, Lanarkshire
The Dairy Supply Co. Ltd, 12 Grassmarket, Edinburgh
Dairyority Ltd, Old Fafley Mills, Duntocher, Dumbartonshire
William Dickie & Sons Ltd, Victoria Implement Works, East Kilbride
Fleming & Co. (Machinery), 31 Robertson street, Glasgow
P. & R. Fleming & Co., 10 Graham Square, Glasgow and Kelvin Works, Keith Street, Glasgow
J. R. Forrester & Co., 5-9 Weir Street, Paisley
R. G. Garvie & Sons, 2 Canal Road, Aberdeen
Gillies & Henderson Ltd, 59 Bread Street, Edinburgh
Eddie T. Y. Gray, Fairbank Works, Fetterangus, Mintlaw Station, Aberdeenshire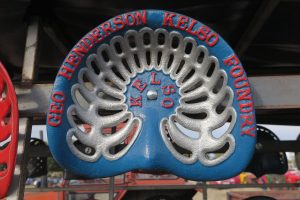 George Henderson Ltd, 18 Forth Street, Edinburgh and Kelso Foundry, Kelso
George Henderson, Catrine Road, Mauchline
Hutcheon (Turriff) Ltd, agricultural merchants, Turriff
Alexander Jack & Sons Ltd, Maybole
Robert Kay & Son, Stirling Road, Milnathort, Kinross
Alexander Laurie & Sons, trailer and motor body builders, Camelon, Falkirk
L. O. Tractors Ltd, Coupar Angus, Perthshire
James McGowan, Dechmont Welding & Engineering Works, Dalton, Cambuslang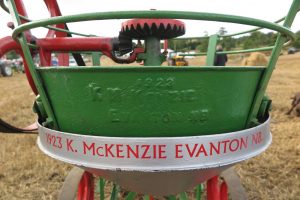 Kenneth Mckenzie & Sons, agricultural engineers, Evanton, Ross-shire
Mackenzie & Moncur Ltd, Balcarres Street, Edinburgh
Marshall & Philp, 179 Union Street, Aberdeen
The Mather Dairy Utensils Co. Ltd, 51 Newall Terrace, Dumfries
John S. Millar & Son, 91 High Street, Annan
A. Newlands & Sons Ltd, agricultural engineers, Linlithgow
Thomas Nimmo, Braehead, Fauldhouse, West Lothian
A. & W. Pollock, Implement Works, Mauchline
Ramsay & Sons (Forfar) Ltd, 61 West High Street, Forfar, Angus
Allan W. Reid (Ayr) Ltd, Main Road, Whitletts, Ayr
William Reid & Leys, agricultural implement makers, 8 Hadden Street, Aberdeen
Reekie Engineering Co. Ltd, Lochlands Works, Arbroath
A. M. Russell Ltd, Sinton Works, Gorgie Road, Edinburgh
Ryeside Agricultural and Engineering Works, Dalry, Ayrshire
Alexander Scott (Agricultural Engineers) Ltd, Caledonian Implement Works, St Ninians, Stirling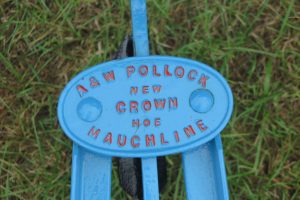 A. & J. Scoular Ltd, Main Street, Thornhill, by Stirling
Scottish Agricultural Industries Ltd, Rosehall, Haddington
Scottish Aviation Ltd, Prestwick Airport, Ayrshire
Scottish Farm Implements Ltd, Crosshouse, kilmarnock
Scottish Mechanical Light Industries Ltd, Scotmec Works, 42-44 Waggon Road, Ayr
George Sellar & Son Ltd, agricultural engineeers, 30 Great Northern Road, Kittybrewster, Aberdeen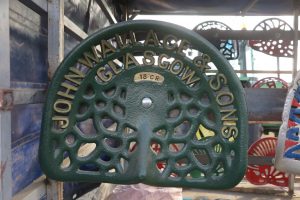 Alexander Shanks & Sons Ltd, Dens Iron Works, Arbroath
Thomas Sinclair, engineer, Main street, Reston, Berwickshire
Thomas Sherriff & Co. Ltd, West Barns, Dunbar
Smith & Wellstood Ltd, Bonnybridge, Stirlingshire
Tullos Ltd, Aberdeen
James H. Steele Ltd, "Everything for the farm", Harrison Road, Edinburgh
Stenson & Co., 200-204 Strathmartine Road, Dundee
Alexander Strang (Tractors) Ltd, Pipe Street, Portobello, Edinburgh
J. & R. Wallace Ltd, The Foundry, Castle Douglas
John Wallace & Sons Ltd, 34 Paton Street, Glasgow
John Wallace & Sons (Ayr), Towhead works, Smith Street, Ayr
Charles Weir Ltd, Townhead Works, Strathaven.
How many of these names do you recognise?
The photographs of makers nameplates and implement seats are from a number of rallies in Scotland from 2013 onwards.