Today we are familiar with the use of machinery rings and the contracting of tractors, implements and machines. Many of us will recollect the threshing mills that travelled around farms, providing a mobile service from threshing contractors.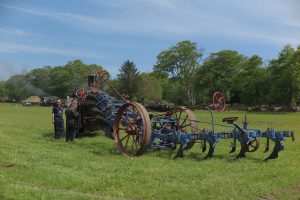 Back in the 1850s the use of steam contractors for threshing and ploughing was in its infancy and was still innovative. The use of steam ploughing engines for ploughing started in the late 1850s in Scotland. Some of these engines were also used for threshing. In later years they were used for hauling herring boats in some parts of the country, such as Aberdeenshire.
In Scotland the first such company to be set up was the Stirlingshire Steam Plough and Thrashing Company Limited, registered as a limited company on 28 May 1860. Its object was "the cultivation of land and thrashing of grain". It had a nominal capital of £1,000, in 20 shares. Of these 19 were in the hands of 13 holders. This predates the first steam ploughing company in England, the Gloucestershire Steam Plough Company, by a number of weeks.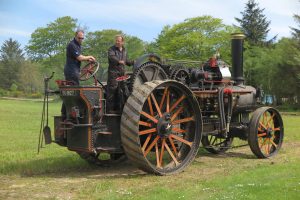 The genesis of the company went back to 1856 when the Stirling Agricultural Society arranged to hold trials into steam ploughing. The first one was made on the farm of Stewarthall, near Stirling. A further trial was held on that farm two years later. This undertook excellent work. In March 1859 a number of gentleman sat down in Campbell's Golden Lion hotel to celebrate the purchase of a steam plough, made by John Fowler & Co., Leeds, at a cost of £800. Its introduction and use was considered to be important in encouraging agriculture innovation and the use of new techniques in the county.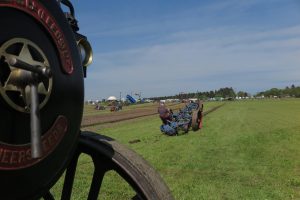 The use of the engine for both threshing and ploughing operations ensured that it could be as fully utilised as possible. The use of threshing extended its use outwit the ploughing season.
The company continued in business or only a few years. By April 1863 it had been dissolved and its assets, a steam engine, plough and thrashing machine, were put up for sale. They were purchased by A. & A. Mitchell of Alloa, at a nomial sum, who used it on their farm.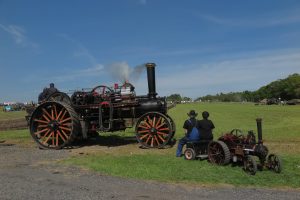 It was not until after the mid 1860s that steam ploughing companies in Scotland were to be more successful. In sone parts of the country, such as the north-east, they continued in operation for a number of years, working until the late 1880s and the agricultural downturn.
The photographs of steam ploughing were taken at B. A. Stores, May 2018.