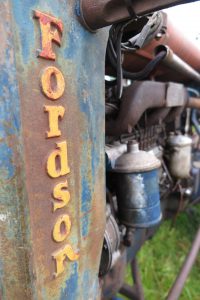 Every tractor has its own story.  You could say that every tractor has its own personal history.  It includes details of where and how it was purchased, its cost, where it spent its working life, changes of owners as well as its servicing history.  And into the preservation era, there are details of entry into preservation, refurbishment, shows attended, road runs and other charity events attended, and prizes awarded.  And there are lots of anecdotal stories about what it was like working with the tractor, good times and bad.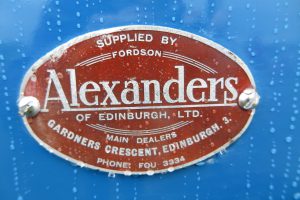 Around the rally field we get some idea of aspects of the personal histories of tractors from the show catalogues.  They include their details of make and model as well as the name of owner and date of production.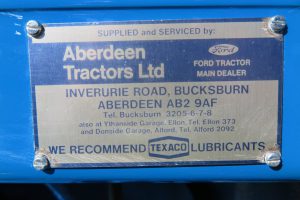 There is also evidence on the tractors themselves.  Dealer plates provide an important source of information on the provenance of some of the tractors.  Not all makers or dealers put a dealer plate on their tractors, but some did.  They included Fordson and Ford. And into preservation, there are still a good number of their plates to be seen.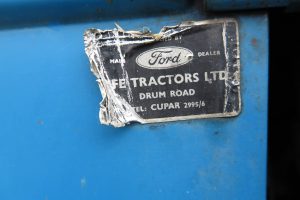 Fordson and Ford had an extensive network of tractor dealers in Scotland which grew extensively in the 1930s when tractors were starting to be used in increasing numbers.  By 1951 that network was extensive, with dealerships in all parts of the country.  If you were looking to buy a Fordson in that year you would find dealers located in these places, and from these dealers: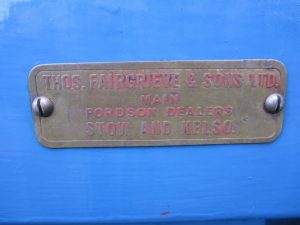 The Harper Motor Co. Ltd, Holborn Junction, Aberdeen
A. Baird & Sons Ltd, High Street, Annan
Dalblair Motors Ltd, 44 Dalblair Road, Ayr
John Harper & Sons (Blairgowrie) Ltd, Perth Street, Blairgowrie
John McBain & Son Ltd, Chirnside, Duns
John Rutherford & Sons Ltd, Home Place, Coldstream
George McLean Ltd, Craig Street, Dundee
Macknight (Motors) Ltd, York Place, Dumfries
Alexanders of Edinburgh Ltd, 64 Fountainbridge, Edinburgh
Elgin Central Engineers Ltd, High Street, Elgin
J. Millar Ltd, Callendar Road Garage, Falkirk
A. T. Mungall Ltd, 167-9 Castle Street, Forfar
George & Jobling, 140-160 Bothwell Street, Glasgow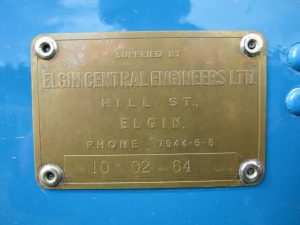 A. W. Taylor & Son, High Street, Invergordon
Chapman of Inverness Ltd, Eastgate, inverness
Harry K. Brown (Motors) Ltd, Raith Motor Works; Nicol Street, Kirkcaldy
The Dunlop Motor Co., Ltd, 3 Nelson Street, Kilmarnock
James Martin (Kirkintilloch) Ltd, Kelvin Valley Works, Kilsyth Road, Kirkintilloch
County Garage (Lanark) Ltd, Hyndford Road, Lanark
Paisley Motor Co. Ltd, 85 Causeyside, Paisley
Frew & Company Ltd, 14 Princes Street, Perth
Millar's Garage (Stirling) Ltd, Union Street, Stirling
Thomas Fairgrieve & Sons Ltd, Cockholm Works, Stow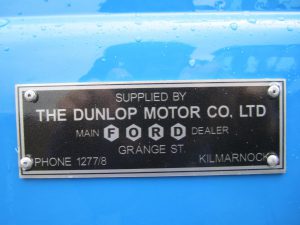 James McHarrie (Stranraer) Ltd, County Garage, Stranraer
Wm Dunnett & Co., 20 Trail Street, Thurso
Shearer Brothers Ltd, Maybank Works, Turriff
Mackay & Jardine Ltd, West Cross, Wishaw
Next time you are looking carefully at the tractors down the tractor lines at a rally, have a look out for their nameplates.  There are a lot of local tractors at local shows.
The photographs of the Ford nameplates were taken at rallies throughout Scotland, 2014-16.
© 2016 Heather Holmes