The 1880s and 1890s saw important developments in machinery to harvest the grain crop.  Binders entered the Scottish harvest field.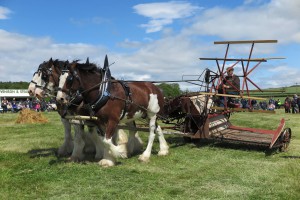 Scottish agents started to exhibit them at the Highland Show from 1882 onwards.  By 1899 there were 11 Scottish machines being exhibited, though by all one maker, J. Bisset & Sons, Blairgowrie.  Bisset exhibited its first binder at that show in 1887 and continued to market it as the only binder 'entirely manufactured in Scotland'.
There were a good number of English makers of binders.  They exhibited them in increasing numbers in the mid 1880s and 1890s, though the number of machines that the exhibited fell sharply after 1900.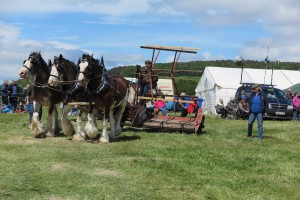 The majority of binders were from America and Canada.  Exhibitors and makers from these countries played an increasing role in the Highland Show from 1884.  From the mid-1890s they came to dominate the exhibition of binders.  As Henry Stephens notes in 1908 'the manufacture of combined reapers and binders is now carried on extensively by many eminent firms – Canadian and American machines competing strongly against British-made ones in our own country'.
The Highland and Agricultural Society of Scotland was keen to promote the adoption and use of binders in Scotland.  During the mid 1890s it held a series of annual exhibition of binders at work, in conjunction with the Highland Show.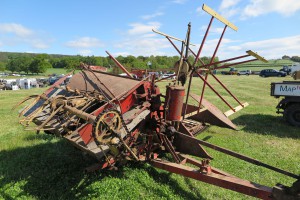 At the exhibition ay Mr Morton's farm of Muirton, Perth, in August 1896 farmers and other agriculturists could see ten machines at work.  They were from a range of makers.  From Scotland, J. Bisset & Sons, Blairgowrie, exhibited its new patent open back steel-built binder, costing £44.  Two other Scottish exhibitors acted as agents for major North American companies.  James Gray & Co., Stirling, was agent for Adriance, Platt & Co., New York, and exhibited its rear discharge binder, costing £35.  John Wallace & Sons, Glasgow, had the Canadian Massey-Harris open end elevating canvas binder made by Massey-Harris Co. Ltd, Brantford, Ontario.
There were four English makers.  Three exhibited their own machines, also being major names on the harvest field: Harrison, McGregor & Co. Ltd, Leigh, Richard Hornsby & Sons Ltd, Grantham, Samuelson & Co. Ltd, Banbury.  Another acted as an agent: Blackstone & Co. Ltd, Stamford, renowned for its hay-making machinery, had the 'Bonnie binder' made by The Johnstone Harvester Co., New York.  Walter A. Wood M. & R. M. Co., with a London address, but a North American company, had its open rear harvester and binder, with transport attachment.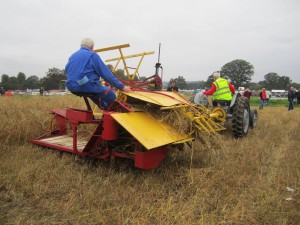 I wonder what farmers and agriculturists thought of the spectacle of seeing these new machines as they watched them hard at work at the Highland Society's exhibition.
The selection of photographs of binders was taken at Scotland's Farming Yesteryear, September 2014, and at Fife Agricultural Machinery rally, June 2015.
© 2016 Heather Holmes