Leading the harvest changed greatly during the course of the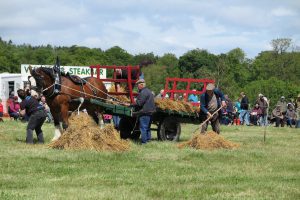 twentieth century.  With the reaper, sheaves were brought home on harvest carts as well as ordinary carts.  Harvest frames could be put on flat trailers to allow sheaves to be built on them.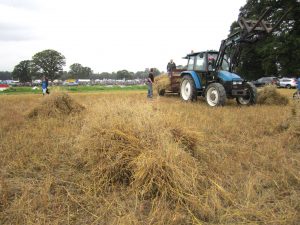 With the use of the combine harvester, grain handling systems were radically altered.  Threshed grain was taken home from the field.  Depending on the model, early combines could deliver the grain into bags, and bagged grain taken to the steading or to the mill.  Grain tanks could allow the grain to be delivered into trailers.  Ultimately, trailers made for the easiest and most efficient way to handle grain coming off the combine.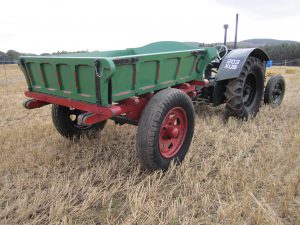 Trailers for grain and other general purposes were made by a large number of makers in Scotland, with the north-east having a number of prominent makers, especially from the 1950s onwards.
In 1952 general trailers were made by implement and machine makers including: Aberdeen Precision Engineering Co. Ltd, Aberdeen, George Brown, Pluscardin, Elgin, Cobban of Inverurie, Inverurie, Dechmont Welding & Engineering Co. Ltd, Salton, Cambuslang, Wm Dickie & Sons Ltd, East Kilbride, E. T. Y. Gray, Fetterangus, Thomas Hay & Sons, Portsoy, Alex Jack & Sons Ltd, Maybole, Alex Laurie & Sons, Falkirk, O. G. Mainland, Shapinsay, Kirkwall, Thomas McKellar & Sons, High Fenwick, James McKirdle, Caerlaverock, Dumfries, David Ritchie, Whitehills, Forfar, John Rutherford & Sons Ltd, Coldstream, Ryeside Agricultural & Engineering Works, Dalry, Alexander Scott (Agricultural Engineers) Ltd, Stirling, Scottish Farm Implements Ltd, Crosshouse, Kilmarnock, Jas. Simpson & Son (Peterhead) Ltd, Peterhead, Alexander Thomas, Guildtown, Perthshire, and John Wallace & Sons (Ayr) Ltd, Ayr.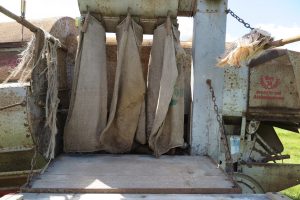 The way the grain was cut and the amount of crop to be handled shaped the grain handling systems used.  These systems were important in mechanising the grain harvest and making sure that the crop was brought home safely and as quickly and efficiently as possible.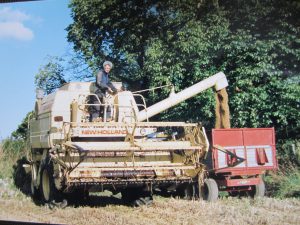 I wonder what a farmer in 1900 would have thought of the bringing home of harvest at the end of the twentieth century!
The photographs were taken at the Fife Vintage Agricultural Machinery Club Rally, 2015, the Strathnairn rally, 2014, Scotland's Farming Yesteryear, September 2014, and at Pilmuir Farm, Balerno, 1990s.