If you were looking to buy a combine in the early 1960s you could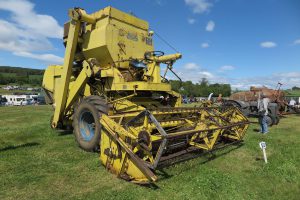 have chosen one from a number of makers.  They included Allis Chalmers Great Britain Ltd, Bamfords Ltd, David Brown Tractors (Sales) Ltd, J. I. Case, Coleman & Co. (Agricultural) Ltd, Fahr Products Ltd, International Harvester Co. of Great Britain Ltd, J. Mann & Son Ltd, Massey Ferguson (UK) Ltd, Ransomes Sims & Jefferies Ltd, and Viking Farm Machinery Ltd.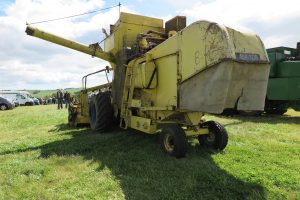 By 1960 a number of Scottish implement and machine makers had agencies with these makers to sell their combines.
If you wanted a Massey Ferguson 780 self-propelled combine, you could purchase one from John Wallace & Sons (Ayr) Ltd, Ayr or Jack Olding & Co. (Scotland) Ltd, Coupar Angus. Gillies & Henderson Ltd, Edinburgh, and A. M. Russell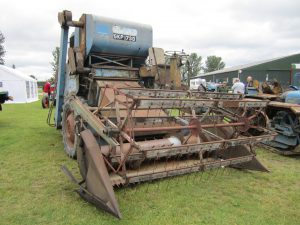 Ltd, Edinburgh, were selling Bamford Claeys combines.  They included a self-propelled one fitted with a diesel engine and the "Super 500" with a p-t-o drive. In Aberdeen, R. G. Garvie & Sons was agent for "Claas". These agents all exhibited their combines at the Highland Show in 1960.
The photographs of the Bamford Claeys combine were taken at the Fife Vintage Agricultural Machinery Rally, June 2014.  The photographs of the Ransomes combine were taken in Newark show ground, June 2014.
© 2016 Heather Holmes