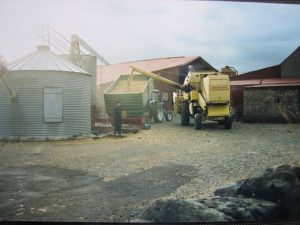 The introduction of combine harvesters brought a revolution in the way that grain was handled on the farm.  It also brought with it a revolution in the implements, machines and sundries available to handle grain.  These included grain driers and grain storage plants and installations, as well as grain-pick ups to move grain.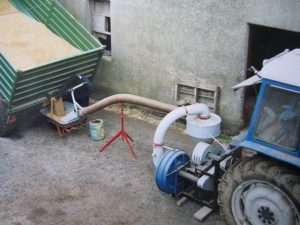 Most of them were made by companies in England, though D. M. Wallace & Sons Ltd, Kelso, was making bin hopper bottoms by 1952.  Early makers included Geo. W. King Ltd, Hitching, Herts, Matthews & yates Ltd, Swinton, Manchester, Mitchell, Colman & Co. Ltd, London, and E. R. & F. Turner Ltd, Ipswich.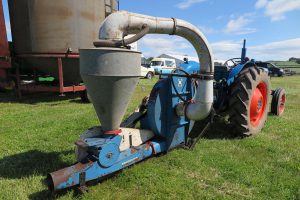 By 1966 Coleman grain dryers, elevators, conveyors and stores were being widely advertised in Scotland.  Mitchell, Colman & Co. Ltd, London, had a wide network of agents and stockists. These included: Alexanders of Edinburgh Ltd, Edinburgh Elgin Central Engineers Ltd, Elgin Jack Olding & Co. (Scotland) Limited, Perth Stirling Tractors Ltd, St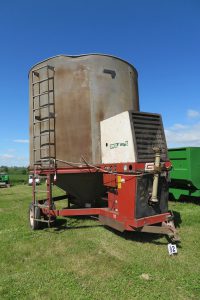 Ninians, Stirling Barclay, Ross & Hutchison Ltd, Aberdeen Frew & Company Ltd, Perth Stanley Partridge, Ardlaw, Fraserburgh J. & G. Sutherland, Halkirk, Caithness A. & J. Bowen & Co. Ltd, Markinch and Cairneyhill Gillies & Henderson Ltd, Edinburgh Rickerby Ltd, Annan and Dumfries William Elder & Sons Ltd, Berwick On Tweed James Gordon (Engineers) Ltd, Castle Douglas Neil Ross (Tractors) Ltd, Forfar.
This revolution also brought changes to the way that farm buildings were used, and on some farms new buildings were erected; on others buildings were modified to accommodate the new plant. Storage was also required for the plant to be kept during the rest of the year.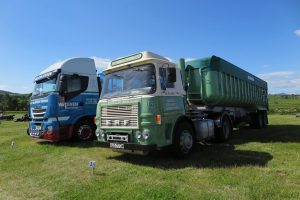 It isn't often that you see aspects of the grain handling revolution around the vintage rallies.  It is an aspect of the revolution in Scottish farming that is much neglected and whose history is not well-recorded.
The photographs show grain drying, Pilmuir Farm, Balerno, Midlothian, mid 1980s and exhibits at the Fife Vintage Agricultural Machinery Club Farming Heritage Show and Annual Rally, June 2015.
© 2016 Heather Holmes