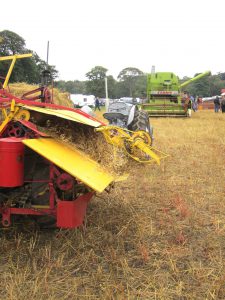 While combine harvesters had gained a firm footing in Scotland by the early 1960s, binders continued to be made and used.
By 1963 the only British makers of combines were two Scottish companies: J. Bisset & Sons Ltd, Blairgowrie, and John Wallace & Sons Ltd. Both were long established makers, also being world-renowned for them.
J. Bisset & Sons Ltd, manufactured a semi-mounted binder, powered from the tractor p-t-o, with a left hand 5 ft or 6 ft cut. John Wallace had the "J.F" front-mounted or trailer model binders of 5 ft or 6 ft cut.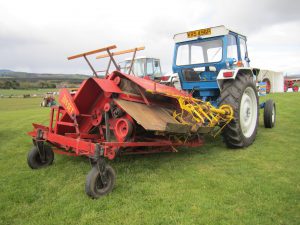 Bisset continued to sell binders until mid 1966. On 16 June that year, the company passed an extraordinary resolution to voluntarily wind up the company; it was dissolved in 20 November 1970.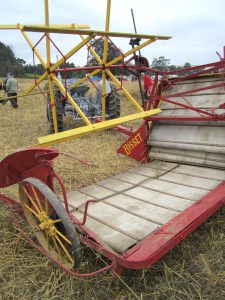 The last Bisset binders to be made were acquired by A. & C. MacLennan, The Garage, Spittalfield, Perthshire. On 22 July 1967 the garage advertised in the Scottish farmer, "last Bisset binders to be manufactured semi-mounted 6ft cut £195". The garage brought to an end the long tradition of Bisset binders, and the long association with Perthshire and binder-making.
The photographs of the Bisset binder (tractor mounted) were taken at B. A. Stores, May 2014, and Scotland's Farming Yesteryear, September, 2014 (trailing model).
© 2016 Heather Holmes