Horses were starting to play an important role in Scottish agriculture in the second half of the eighteenth century. James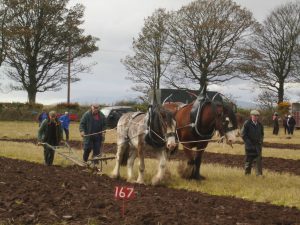 Small's horse plough, based on the Rotherham Plough, brought a revolution in ploughing and ploughing by horses in Scotland. However, oxen continued to be used on some farms and the tradition of usiing cattle continued into the twentieth century in some areas of the crofting counties.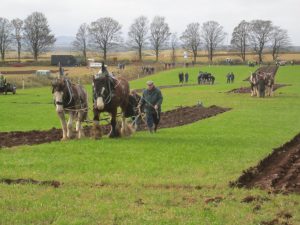 In the twentieth century the rise of the farm tractor brought the demise of ploughing with horses. It was not until after the Second World War that tractors really started to make inroads in Scotland. On some farms horses continued to be used alongside tractors, sometimes being confined to the lighter jobs.
In 1952 Scottish and English plough makers still continued to make ploughs for horse draught, though their focus was on the rapidly expanding market for tractor ploughs.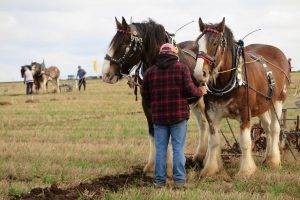 In Scotland the last major plough maker that still made ploughs for horse draught was Cruikshank & Co. Ltd, Denny. Its principal ploughs, all one furrow, were a semi-digger with a lifting lever to land wheel for altering ploughing, a general purpose plough and a semi-digger. The company also made tractor ploughs for ferguson, David Brown, Forsdon Major and Nuffield tractors.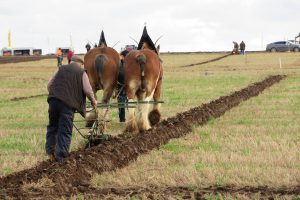 If you did not want to purchase a Cruickshank plough you could chosose one from a number of English makers: Bedford Plough & Engineering Co. Ltd, Bedford, davey, Sleep & Co. Ltd, Plymouth, Hyders Coachwork Ltd, Sevenoaks, H. & E. Lintott Ltd, Horsham, Surrey, Lloyds & Co. (Letchworth) Ltd, Letchworth, R. & J. Reeves & Son Ltd, Westbury. From Ireland, horse ploughs continued to be made by Philip, Pierce & Co. Ltd, Wexford, and Wexford Engineering Co. Ltd, Wexford. Ransoms Sims & Jefferies Ltd, scontinued to make ploughs for animal draught.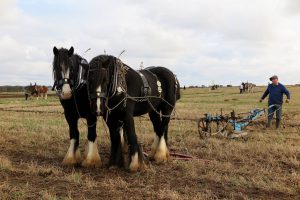 By 1958 Cruikshank is no longer recorded as making horse ploughs. The number of makers of these ploughs had greatly declined, with Davey, Sleep & Co. Ltd and John Huxtable & Son ltd being the only remaining makers. Ransoms Sims & Jefferies Ltd, continued to make ploughs for animal draught.
The 1950s saw the end of the making of ploughs for horses in Scotland. This was the end of a strong and eminent tradition for which Scotland was highly regarded and renowned throughout the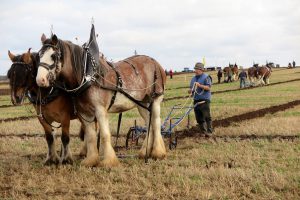 world. But it was to be continued through the making of ploughs for tractors. In 1952 there were some noted Scottish makers of tractor ploughs, including Adrolic Engineering Co. Ltd, Milngavie, William Begg & Sons, Tarbolton, Mauchline, Cruikshank and Co. Ltd, Denny, E. T. Y. Gray, Fetterangus, A. Newlines & Sons Ltd, Linlithgow, James A. Cuthbertson Ltd, Biggar, James Farquharson Ogg, Bridge of Muchalls, and Shearer Brothers Ltd, Turriff, among others.
The photographs were taken at the Scottish Ploughing Championships, October 2014 and October 2016.