Donald Murray of 60 East Gate, Inverness, described his business as an agricultural merchant and commission agent in 1889. He was one of a number of implement makers and agents in the town in that year. He continued in business until at least 1911.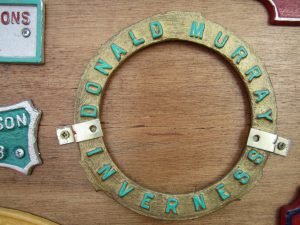 Donald was keen to promote his business. He had a stand at the Highland Show in 1901 and 1911 when it visited the town. At the two shows, he exhibited a wide range of implements and machines from the leading Scottish, English and American makers, bringing the latest developments to Highland farmers. In 1901 they included spring tine cultivators from Wm Nicholson & Sons and Massey Harris, broadcast sowing machines from Wm Elder, horse hay rakes from McCormick and W. N. Nicholson & Sons, hay and clover tenders from Barford & Perkins, hay forks and elevators from Ogle & Son, mowers and reapers from Harrison, McGregor & Co., binders from Massey Harris Co., corn crushing and grinding mills from Harrison, McGregor & Co., cake bills from W. N. Nicholson & Sons, chaff cutters from Harrison, McGregor & Co., corn dressing machines from John Baker Ltd, kibbling mills from Barford & Perkins, patent hand and foot threshing mills from Shearer Brothers, and sack weighing machines from W. & T. Avery.
In 1911 Donald continued to sell manufactures form most of these makers. By that time he was also selling petrol engines from the Briston Waggon Vo., as well as Lister cream separators, gardner's patent turnip cutting machines, Ransome's ploughs and a number of potato diggers from Allan and Ransomes. Donald provides evidence that farmers and other agriculturists in the Highlands could locally purchase implements and machines from the leading makers and through them advance agriculture in the region.
If you are at a rally in the Highlands, have a look out for the Murray nameplate. The name plate was photographed at the Daviot Vintage Rally, September 2013.