We associate ploughs with their place of manufacture: Sellar of Huntly, Newlands of Linlithgow, Gray of Uddingston, and Cruikshank of Denny are well-known examples.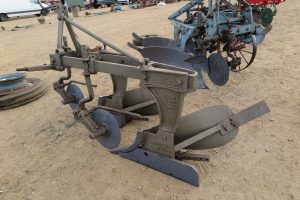 Cruikshank & Company, Denny Iron Works, was a long-established company, but did not start to manufacture agricultural implements, including ploughs, until much later, into the early twentieth century. As a general iron founder, it set up an agricultural department by 1923. In 1960 this was referred to as the "agricultural supplies department".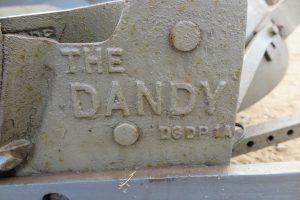 The company started to exhibit at the Highland Show in 1933, thereafter being a regular exhibitor until at least 1970. It was also a regular advertiser in theScottish agricultural press, in the North British Agriculturist and the Scottish Farmer.
In 1950 its ploughs included tractor ploughs, horse ploughs, plough shares and spares. One of its well-known models was the two furrow bar pointed "the Dandy".
Its other manufactures included automatic hitches and adjustable hitches, tubular rail divisions, cattle drinking bowls, grain lifters, tractor rollers and cast iron, malleable and steel agricultural castings.
There are still a few Cruikshank ploughs around. You may see the popular "the Dandy".
The Cruikshank plough was exhibited at the Scottish National Tractor Show, September 20915.