Mc is for …
Thomas Macavoy, Dairy Works, 27 Castle Street, Stranraer, Wigtownshire
John McBain & Son, Chirnside, Berwickshire
George McCartney & Co. (thrashing machines), Burnside Works, Cumnock, Ayrshire
John McCulley (ploughs, harrows, grubbers &c), Beansburn, Kilmarnock, Ayrshire
Macdonald Brothers (reapers &c), Roseacre Street, Portsoy, Banffshire
John McDonald, 81 High Street, Aberlour, Banffshire
Peter MacDonald, 81 High Street, Aberlour, Banffshire
John McDougall, Irongates, St Mungo, Lockerbie, Dumfriesshire
William McFarland (ploughs), Ardler, near Meigle, Perthshire
Alexander McGeorge, Torthorwald, Dumfries
John McGhie & Sons, Harthope Place, Academy Street, Moffat, Dumfriesshire
James McGillivray (turnip cutters, harrows and ploughs), Newton Road, Spynie, Elgin
William McIlwraith, Milngavie, Dunbartonshire
John McInroy, Balgersho Engineering Works, Coupar Angus, Perthshire
John Mackay, Tornagrain, Petty, Inverness
Alexander Mackenzie & Son (ploughs, harrows &c), Achnagarron, Rosskeen, Invergordon, Ross-shire
Kenneth MacKenzie, agricultural engineer, Evanton, Ross-shire
John McKinnel, Closeburn, Thornhill, Dumfriesshire
P. & W. MacLellan Ltd, engineers, wagon builders, bridge and boiler makers, iron, steel and copper merchants, smiths, machine tool makers, bolt, nut, rivet, and chain manufacturers, and general ironmongers, 129 Trongate; Clutha Works, Vermont Street, Plantation; registered office, 108 Cannon Street, London
John Macnair, Longrow, Campbeltown, Argyll
McNab, tinplate worker, manufacturer of all descriptions of tin dairy utensils, established over 120 years, 171 Gallowgate, Glasgow
William McNaughton (hay presses, thrashing mills and engineers), Forth Street, Stirling
Alexander MacTavish, 18 and 20 Castle Street, Inverness
J. & T. McWilliam, Lochans, Stranraer, Wigtownshire
Under this letter we have some major names in the Scottish agricultural implement and machine makers. 
MacDonald Brothers of Portsoy had been making agricultural implements and machines from 1878; their early manufactures included harrows and turnip lifters.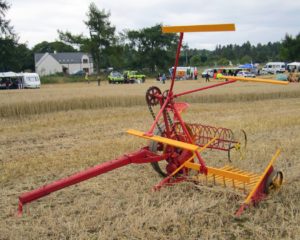 By 1885 they had started to make back delivery reapers, a manufacture which they continued to make into the early twentieth century. They had a number of models. In 1890 one of them was the Princess, a one horse self-acting back delivery reaper. Another two from 1894 were the Portsoy self-acting back delivery reaper and the Simplex self-acting back delivery reaper. The brothers were among a number of reaper manufacturers in Scotland, others including the famous Kemp, Murray & Nicholson, Stirling, Alexander Jack & Son, Maybole, as well as Auchinachie & Simpson, Keith.
By 1889 Henry Stephens could note that "in all parts of the United Kingdom, and on almost all farms of any considerable size, the reaping machine has superseded the slower and older appliances for cutting down the corn crops." It was to be only a few years later that binders would start to come into force, marking another revolution in the harvest field.
Kenneth McKenzie of Evanton, Ross-shire, later Kenneth McKenzie & Sons, Evanton, was a noted implement maker in Ross-shire, whose name went well-beyond the boundaries of that county.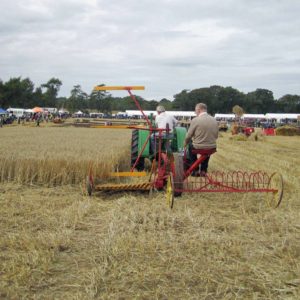 Kenneth was already a smith and farrier in 1903. In 1922 he is recorded in trade directories as an agricultural engineer, a mechanical engineer, a motor engineer and a smith. By 1955 he is denoted as an agricultural engineer, implement, machinery and equipment manufacturer and as a tractor and implement dealer.
Kenneth's business grew and expanded.
By 1945 he had premises at Evanton and also Conon Bridge. In 1955 he also had a branch at Inverness. He was joined by his sons in business by 1949, becoming "Kenneth McKenzie & Sons". Sister company also emerged, including Kenneth McKenzie & Sons (Caithness) Ltd, which had premises at Burn Street, Wick, in 1952.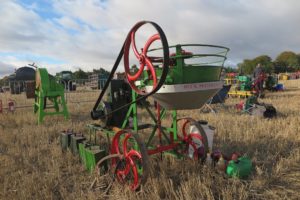 The company actively promoted its manufactures and its implements and machines for which it was an agent at the Highland Show from 1923 onwards until 1956. It focused its attention on the shows in the more northern parts of Scotland attending ones at Inverness, Perth, Edinburgh, Dundee, Paisley, Aberdeen, and Alloa.
The company manufactured its own implements and machines. They included potato dressers, root cutters, barrows, food coolers, and sack holders.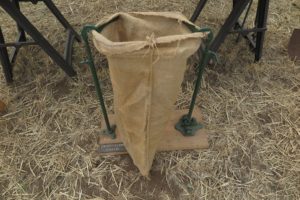 In 1949 the company made a variety of root cutters. They included:
Root cutter, model no 1, with 1 1/2hp Lister engine
Root cutter model no 1 with 2hp electric motor
Root cutter model no 1A with 1 1/2hp Petter engine
Root cutter model no 2 with 1 1/2 hp Petter engine
Root cutter and cleaner, combined model no 3 with 1 1/2 hp Petter engine
Root cutter model no 4 stationary
Root cutter model no 417 stationary with 2hp electric motor
Root cutter model no 4B semi-portable with 1 1/2 Wolseley engine
Root cutter model no 5 stationary
Root cutter model no 6 stationary with wall brackets
Root cutter only for existing power.
The company continued to operate until 1957.
George McCartney & Co., engineers, Cunnock was already established by 1850. In 1887 it was described as one of the "principal" exhibitors of implements at the Ayrshire Agricultural Association's show. By 1894 it was located at Glaisnock Street in Old Cumnock, and in 1903 it gave its address as Burnside Works, Cumnock, where it remained in business until the 1930s.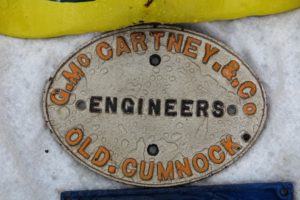 In 1893 the company described itself as engineers, millwrights and ironmongers. It was also an agricultural implement maker, electrical accessory and appliance manufacturer, engineer, manufacturer and mechanical engineer. It was most well known for its thrashing machines and reaping machines. In 1870 the Highland and Agricultural Society of Scotland awarded its silver medal for its 3 or 4 horse power thrashing machine and in 1875 that society also awarded it a medium silver medal for one of its thrashing machines. It was its thrashing machines that it also heavily advertised in the Scottish agricultural press, in the North British Agriculturist from 1861, and the Scottish Farmer from 1893. In 1910 its threshing machines included a 3 feet 8 in bolster high speed threshing machine, with crank shakers, riddle and fanners (which sold at £77; with double blast £83), its "Eclipse" combined thresher and dresser, 20 inch wide, with horse gear (for £32); and a 16 inch thresher dresser, with revolving shakers and horse gear (for £27).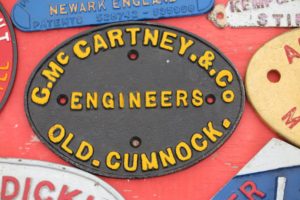 The company attended the Highland Show from 1850. However, after the 1852 show it did not attend again until 1870. Attendance was sporadic, with the company favouring the show in the south of Scotland and central Scotland show districts.
The company continued in business until 1933. However, its legacy lasted thereafter. On 14 October 1933 William Dickie & Sons, East Kilbride advertised "McCartney & Co., Cumnock, the old established firm has given up business. We have secured the patterns and drawings for their threshing mills, water wheels, gears, water bowls &c."
If you bought a threshing mill from Dickie's of East Kilbride, after 1933, the chance is that it would have been one that used the patterns from George McCartney & Co.