L is for …
Ladyacre Engineering Co. (threshing mills, rick lifters), Ladyacre Road, Lanark
Andrew Lafferty, 16 Mill Lane, Kilmarnock, Ayrshire
Alexander Laurie & Sons, trailer and motor body builders, Camelon, Falkirk, Stirlingshire
Lawrence-Kennedy Ltd, agricultural implement manufacturers, 29 Maxwell Road, Glasgow
Gordon Lees, 12 St Andrew Street, Castle Douglas, Kirkcudbrightshire
William Leslie, Kinellar, Aberdeenshire
Under "L" we have some well-known names as well as some that are less so.
The Ladyacre Engineering Co., Lanark, was established by 1921. It continued to be based at Lanark, though by 1958 it had a branch at Skirling. It described itself as an agricultural and motor engineer. It was also a mechanical engineer, as well as an agricultural implement maker. Among its manufactures were threshing mills and rick lifters.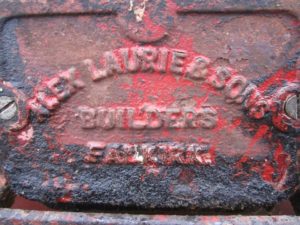 A Laurie & Sons, Camelon, Falkirk, was a well-known and long established trailer maker. By 1960 the company could state that it had been established over a hundred years.
In 1922 trade directories recorded it as a smith, a trade that it continued in following decades. By 1935 it described itself as trailer and motor body builders, descriptive terms that it continued to employ until at least the early 1960s. Its work as a motor lorry and wagon builder had started around 1928, and in 1930 it had extended into being a motor car body builder.
The company changed with the times, and by late 1961 Alex Laurie & Sons had become Alex Laurie & Sons (Trailers) Ltd.
While it was a long-established company, it did not start to exhibit at the Highland Show until 1921. It sporadically exhibited during the 1920s and 1930s. It was not until after 1948 that it became a regular attender at the show, continuously attending in the following decades. Its interest in the agricultural market was reinforced by its advertising in the Farming News from 1945 until 1961 and the Scottish Farmer from 1936 until 1970 (though there may be later adverts).
In 1949 the company manufactured a range of trailers. These included a 30/35 cwt tipping trailer (balanced), a 50 cwt tipping trailer (screw), a 70 cwt tipping trailer (screw fitted with stock sides), a 3 ton low loading trailer, a potato trailer (Rae's patent), a 5 cwt car trailer, and a 3 ton 3 way hydraulic tipping trailer.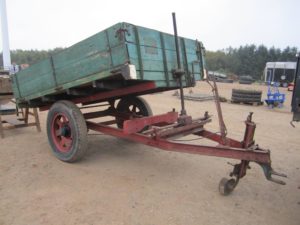 Lawrence-Kennedy was a well-known name in the dairy world as a dairy engineer and outfitter and maker of milking machines. In 1906 it described itself as Lawrence-Kennedy, agricultural implement manufacturers, 29 Maxwell Road, Glasgow. It changed its business structure, to become an incorporated company in 1911 to be Lawrence-Kennedy Ltd. It continued in business until 1960 when it was voluntarily wound up. It was a regular advertiser in the agricultural newspaper press and exhibited at the Highland Show in 1928 (Aberdeen), 1929 (Alloa) and 1934 (Dundee).
Another name in the dairy world was Gordon Lees, 12 St Andrew Street, Castle Douglas, Kirkcudbrightshire. Trade directories note that the business operated in the inter-war years as a dairy machinery and utensil maker, a tinsmith and a sheet metal maker.