Hay sweeps were an important implement to sweep or take hay to the stack in the hay field.  Tractor-mounted rakes gradually replaced horse- and tractor-drawn trailed rakes in the 1950s.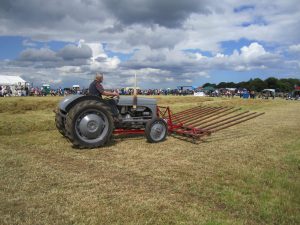 In 1952 if you wanted to purchase a new hay sweep you choose one from a number of implement and machine makers throughout Scotland.
From Scotland, J. Bisset & Sons Ltd, Blairgowrie, had a tractor front attached one with a sweeping width of 10 feet.  Wm Dickie & Sons Ltd, East Kilbride, had a folding hydraulic, mounted or fixed, which would fit most makes of tractors.  A. Proctor & Co., Blairgowrie, had a sweep for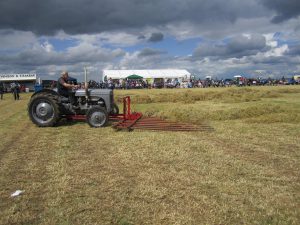 front tractor mounting with universal fitting or hydraulic linkage.  It had a capacity of 10cwt. Tullos Ltd, Aberdeen, also had a sweep operated from power lift with a width of 9ft 10 ins; its tines were 8ft 11in.
There were also ones from other makers: J. D. Bryan, Culthill Works, Murthly, Thomas McKellar & Sons, High Fenwick, by Kilmarnock, John Rutherford & Sons Ltd, Coldstream and Alexander Thomas,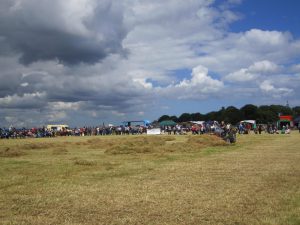 Guildtown, Perthshire.  It is interesting to note the number of makers from Perthshire!
There are a small number of hay sweeps at the vintage agricultural machinery rallies throughout Scotland. You can't miss them!
The photographs of a tractor sweep were taken at the Fife Vintage Agricultural machinery rally, June 2014.
© 2016 Heather Holmes