Back in 1914 Barclay, Ross & Tough conducted its business from Balmoral Buildings, 67-71 Green, Aberdeen, and at Craigshaw, Aberdeen.  It was two addresses that became closely known with its successor Barclay, Ross & Tough and Barclay, Ross & Hutchison Ltd in 1920.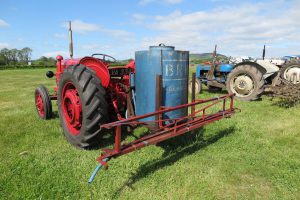 Early important changes were brought about in 1915 with the retrial of Robert Tough.  The business continued to be run by the remaining partners, Robert Ross and Thomas Hutchison.  Mr Barclay, the other partner, had been commission agent in Aberdeen from at least 1874 and then a manure, agricultural implement and commission merchant by 1890.  By 1898 he was described as "Morrison Barclay, of Barclay, Ross and Tough. 
On the retrial of Robert Ross, the business was taken over by Scottish Agricultural Industries Ltd on 1 July 1929.  In 1933 it advertised in the North British Agriculturist as Barclay, Ross & Hutchison Ltd, associated with Scottish Agricultural Industries Ltd". In that year it exhibited at the Highland Show the "S.A.I. chemical dresser for all seeds".
While B.R.H. was associated with Aberdeen, it also conducted its business outside Aberdeen.  In 1930 it had a depot at Perth, followed by another at Milnathort, Montrose, in 1938 and one at Forfar in 1947.  In 1955 its depots were at Milnathort, Perth, Forfar, Montrose, Turriff and Aberdeen.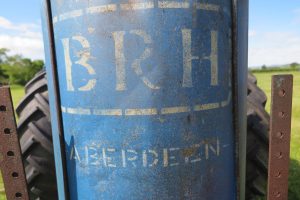 The company undertook a wide range of activities.  In 1955 it was an agricultural implement, machinery and equipment dealer, agricultural engineer, machinery and equipment and equipment manufacturer, dairy engineer, dairy farm equipment supplies, electrical engineer and contractor, gate and pen manufacturer, structural and roofing engineer and contractor, tractor and implement agent, dealer and distributor.  For a good number of years it was also a millwright.
The company had its royal connections. In 1924 it was "by appointment agricultural implement makers to His Majesty George V" and in 1959 "by appointment to Her Majesty the Queen, Agricultural Engineers".
The company made and sold a wide range of agricultural implements and machines. It was also an agent for a number of leading makers. In 1968 they included New Holland and Clayson, Bamfords, Howard and Alfa-Laval. It was an active advertiser in the Scottish agricultural press, especially from 1919.
The photographs of the B.R.H. sprayer was taken at the Fife Vintage Agricultural Machinery Club rally, June 2015.
© 2016 Heather Holmes