A number of readers will be familiar with the steam thrashing contractors that went around a number of districts in Scotland into the twentieth century. In later years some of the traction engines that provided movie power were replaced by tractors. These mills played an important role in bringing thrashing technology to farms and other premises that did not have their own mills.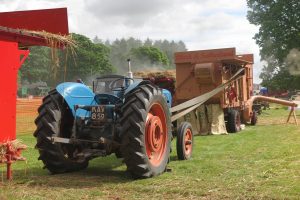 From the early days of thrashing with mills in the late eighteenth century a number of farms had their own mills. Some were water powered; others were horse powered. A number were powered by steam. In the 1790s and until 1817 the presence of these mills is described in the Board of Agriculture's county agricultural surveys. They are also mentioned in the Old Statistical Account of the 1790s which provides a parish by parish account of the "state of happiness" of the people of Scotland and their way of life. Half a century later a number of them are also referred to in the New Statistical Account of Scotland.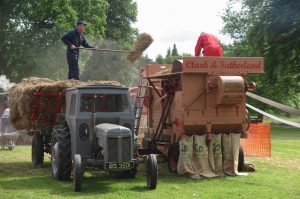 By the mid nineteenth century when Scotland was being intensively mapped by the Ordnance Survey, its surveyors were out and about on the land, visiting farms and other settlements, and recording the names of every building and feature. In their accounts a number of the surveyors refer to the presence of thrashing mills as part of the farm steadings. For example, at Boll of Bear in Kirknewton parish the farm had a "Suitable outbuilding" and a thrashing machine. At Cockburn in the parish of Currie the farm had "suitable offices and a thrashing machine attached". At Warriston, also in that parish there were "suitable offices including a thrashing machine attached". This evidence can be used to gain a better idea of the distribution and presence of thrashing machines at farms.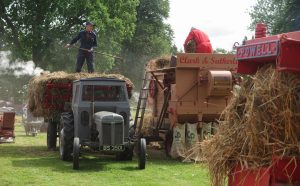 There are also references to steam thrashing mills. However, compared to the number of sets of "thrashing machines", their number is small. In Aberdeenshire, two are recorded at Lumbs, in Lonmay parish, where the farm had "large farm buildings attached also a steam thrashing machine". At Tyakesnook, also in Lonmay there was "a superior farm steading, being the home farm of Crimmogate. A steam thrashing machine is attached". In other counties such as Ayrshire, there was also only one recorded; in this county it was at the farm of Sorbie in the parish of Ardrossan. That farm had an "extensive farm yard with new dwelling house adjoining having a steam thrashing mill". Even in East Lothian, a leading district, there was not a large number of these mills. There was one, at Wester Broomhouse, Dunbar.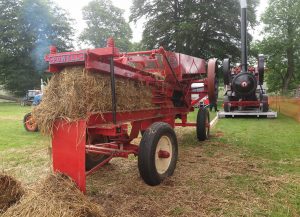 In other parts of Scotland steam thrashing mills were found at farms that included:
Berwickshire – Redhall (parish of Ayton), Aytonlaw (Ayton), Cove (Cockburnspath), Chapelhill (Cockburnspath), Brockholes (Coldingham), Heughhead (Coldingham), Berrybank (Coldingham), Darnchester West Mains (Coldstream), Rules Mains (Duns), Printonian (Eccles), Kames West Mains (Eccles), Bogend (Fogo), Hume Orchard (Hume), Blinkbonny (Nenthorn), Thorndykes (Westruther), Jardinefield (Whitsome), Whitsomehill (Whitsome)
Dumfries-shire -Shawsholm (Closeburn), Netherwood Mains (Dumfries)
Fife – Skeddoway, Pittillock
Kincardineshire – West Woodtown (Fettercairn), Denstrath (Fettercairn)
Midlothian – Sherriffhall Mains, South Melville
Morayshire – Kinneddar (Drainie)
Peeblesshire – Paulswell (Linton)
Ross and Cromarty – Mains of Belmaduthy
Roxburghshire – Hill Onstead (Crailing), Whitelee (melrose), Broomylees (Melrose)
Stirlingshire – Blackstone (Muiravonside).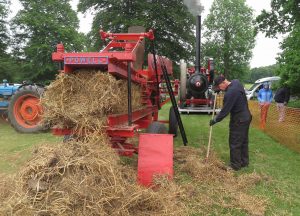 It is interesting to note that the steam threshing mills are largely located in eastern counties, and especially some of the leading arable areas. The farms included the largest ones, and also the most modern ones with up to date steadings, and also extensive ones. Some were the "home from", the jewel in the crown on an estate. 
Next time you see the steam threshing mill at a rally, remember that some farms had their own mill which was built as part of the farm steading.
The photographs of steam thrashing were taken at the Bon Accord Steam Fair, June 2018.