Steam power played an important role in mechanising Scottish agriculture in the nineteenth and twentieth centuries.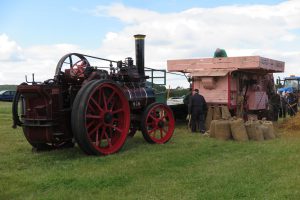 The Highland and Agricultural Society of Scotland, the national agricultural society, recognised the importance of steam power for the farmer and agriculturist, and encouraged its use and development though a range of means, including premiums, competitions and special committee investigations.
It was at the Highland Show that farmers and agriculturists got to see the latest developments in steam power for the farm.  The first steam powered exhibit at the show was at the Glasgow Highland Show of 1850.  In the "extra implement" class Clayton, Shuttleworth and Co., Lincoln, exhibited a seven horse power portable steam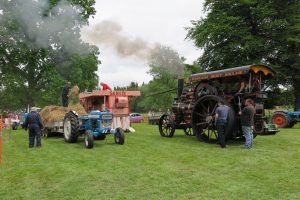 engine for thrashing and other purposes.  This would set the purchaser back £209, and if they wanted it felted and cased they would pay a further £8 extra.  Richard Garrett and Son, Saxmundham, also exhibited a portable steam engine for agricultural purposes for £205.
While the early Highland Shows in the 180s generally had a small number of steam exhibits, their numbers increased significantly as steam power became more widely adopted on Scottish farms.
At the 1875 Highland Show held in Glasgow, there were eighteen exhibitors of steam powered engines and machinery.  They included some of the major English makers whose names came to dominate the making of traction engines and portable steam engines – William Foster & Co., Wellington Foundry, Lincoln, John Fowler & Co., Steam Plough Works, Leeds and Edinburgh, Richard Hornsby & Sons, Spittlegate Iron Works, Grantham, Marshall, Sons & Co. Ltd, Britannia Iron Works, Gainsborough, and Robey & Co., Lincoln.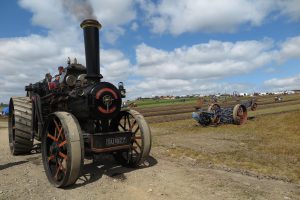 But there were also Scottish makers and exhibitors, some of whom were well-known at that time for their steam manufactures.  One of them was Alexander Chaplin & Co., Cranstonhill Engine Works, Glasgow, with a portable winding engine. D. Gordon & Co., Newton Works, Ayr, had an eight horse power vertical engine and boiler combined, built on a strong cast-iron foundation, as well as a light two-horse thrashing machine and horse gear.  Another from Ayrshire, J. & T. Young, Vulcan Foundry, Ayr, exhibited a five horse power improved horizontal tank steam engine and independent vertical boiler with cross tuber in fire box as well as a patent stone dressing machine.  William Young, engineer, Ardrosssan, had a three horse power (nominal) vertical engine and boiler combined suitable for driving, thrashing, churning and other machinery.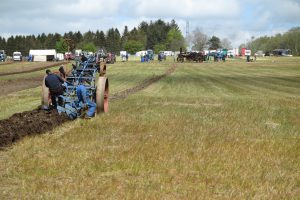 Steam power continued to be an important feature of the showyard (especially the "machinery in motion" section) of the Highland Show for a number of following engines.  However, from the 1880s steam power had to compete with new forms of power, including gas power, diesel power paraffin power, and electric power, and their increasing use on Scottish farms.
Traction engines continued to be exhibited at the Highland Show until the early 1930s.  The last traction engine that John Fowler & Co. (Leeds) Ltd, Leeds, world-famed for its steam ploughing and cultivating engines and tackle, exhibited at the Show was in 1933.  This was a 10hp (nominal) traction engine, single cylinder, on rubber-tyres wheels and fitted with front tank and Pickering governors, with a rotary plough, its gyro tiller, of 170hp.  By this time a number of the traction engine makers were making diesel powered engines.
A number of traction engines for agricultural use can be seen around the rally fields today.  The photographs are rom the Bon Accord Steam Fair, 2015, Fife Vintage Rally, 2015, and B. A. Country Fair, 2016, illustrate aspects of agricultural steam from the past.
© 2016 Heather Holmes