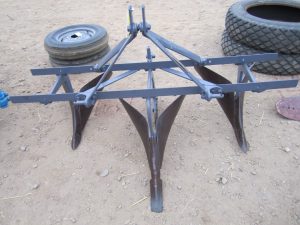 The growing of crops in drills started in Scotland in the eighteenth century. The first crops to be grown were turnips follow much later with potatoes (they were first grown in the field in the early 1740s).
Ridging ploughs were a key implement in opening furrows for potatoes. After planting the soil was turned back over the potatoes with a ridger, plough or hand hoes. The splitting back of the ridges with a tractor-drawn rider required a lot of concentration – well, if you were not paying attention you had to look at your "mess" for a number of weeks until the growing plants hid your job.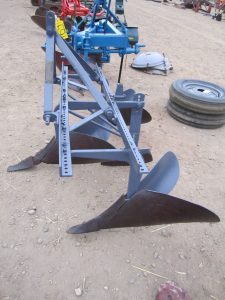 Ridging ploughs were made by a number of the Scottish and English implement and machine makers. In the early 1950s they included both horse drawn and tractor drawn ones, with the latter being more numerous.
The Adrolic Engineering Co Ltd, Clober Works, Milngavie, manufactured with hydraulic tractor mounted, rear or mid-mounted riders. A. Newlands & Sons Ltd, St Magdalene's Engineering Works, Linlithgow, had a set of hydraulically mounted 3-row toolbar with fixed or spring release bodies. John Wallace & Sons (Ayr) Ltd, Towhead Works, Ayr, manufactured a combined double-furrow ridging plough and fertiliser distributor.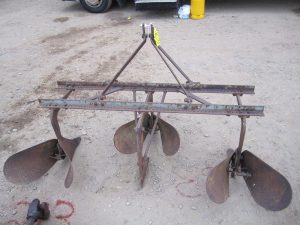 If you are around the Scottish rally fields you will see some of the English makes that were widely used – those made by David Brown Tractors Ltd, and Harry Ferguson Ltd. Have you noticed how many sets of Ferguson riders are still around and exhibited?
When you are around the rally fields this summer have a look to see how many ridgers are around and the makers.
The photographs were taken at the Scottish National Tractor Show, September 2015.