In the days before pick-up balers, hay making involved moving the hay around the field a lot of times to allow it to dry out.  Hay rakes or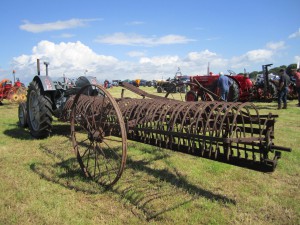 horse rakes played an important role in moving the hay around the field.  By 1900 they were considered to be an important labour-saving device, reducing the amount of forking by hand that was required to move the hay around the field.
In 1908 Henry Stephens described their use: "The rake is started at the side of the field first cut, and emptied at intervals, regulated according to the carrying capacity of the rake and the weight of the crop.  The rows of gathered hay this formed are called "windrows".  In these rows the hay lies loosely, and in this condition, with favourable weather, it dies speedily."  While he described the use of horse rakes in connection with the English method of haymaking, Scottish farmers could purchase and were using horse rakes.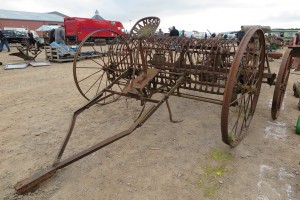 In 1912 Scottish farmers could purchase one from a number of makers throughout Britain.  They included Martin's Cultivator Co. Ltd, A. Newlands & Sons, Linlithgow, John Doe Ltd, Errol, Massey Harris Ltd, Ransomes, Sims & Jefferies Ltd, H. W. Mathers & Sons, Barclay, Ross & Tough, Aberdeen, P. & R. Fleming & Co., Glasgow, and John Wallace & Sons Ltd, Glasgow.
Newlands of Linlithgow, for example, sold two types of horse rakes. The first one was a self-acting horse rake with 28 steel teeth and 50 inch wheels (for £13 10s).  The second one was a manual horse rake with 28 steel teeth and 50 inch wheels (for £11 10s).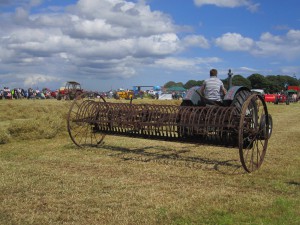 If you were looking to purchase a horse rake during the tractor era (by this time they were called hay rakes), you could also purchase one from a number of makers.  In 1952 all the makers were located in England and Ireland.  They included well known-names in hay-making equipment: Bamfords Ltd, Uttoxeter, A. C. Bamlet Ltd, Thirsk, Davey, Sleep & Co. Ltd, Plymouth, Dening and Co. (1937) Ltd, Chard, Harrison, McGregor & Guest Ltd, Leigh, W. N. Nicholson & Sons, Newark, P. J. Parameter & Sons Ltd, Tilbury, Phillip, Pierce & Co. Ltd, Wexford, and Wexford Engineering Co. Ltd, Wexford.
There are not too many horse rakes or hay rakes around the Scottish vintage machinery rally fields today.  However, there are still a few lying around behind dyke backs.  I've seen a few at the end of drive ways as a decorative ornament to symbolise farming practices of yesteryear.  They were certainly an important element in the mechanisation of the hay harvest.
The photographs were taken at the Fife Vintage Agricultural Machinery Club Rally, June 2014, and at the Scottish National Tractor Show, September 2015.
© 2016 Heather Holmes