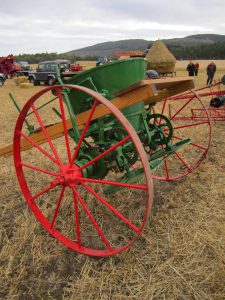 One of the big names in manure distributors at the turn of the twentieth century was J. & R. Wallace Ltd, The Foundry, Castle Douglas.  It had won the first prize of the 'great Newcastle trials of the RASE' (Royal Agricultural Society of England).  This was quite an accolade as few Scottish implement and machine makers won prizes at the RASE trials.
If you wanted to purchase a manure distributor or sower you could have chosen one from a number of Scottish companies: Thomas Sherriff & Co., East Barns, James Gordon, Castle Douglas, Thomas Hunter & Sons, Maybole, John Wallace & Sons, Glasgow, Robert Wallace & Son, Whittlets, Ben Reid & Co., Aberdeen, and Robert G. Garvie, Aberdeen. 
In 1912 Thomas Sherriff & Co. had a range.  One was for drill or broadcast at a cost of £15.  Another was attachable to plough with wheel marker for £3. Ben Reid & Co., had a 10 foot wide one for artificial manures at a cost of £16, a manure distributor and land roller combined, also for £16, and a manure distributor and drill plough combined, for £16.  In the north-east another maker, G. W. Murray, Banff Foundry, had a manure distributor for £22.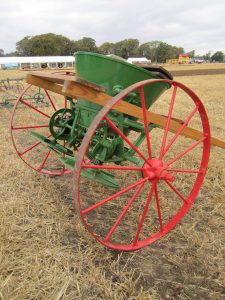 New designs continued.  In 1922 George Henderson, Kelso, entered as a new implement at the Highland Show a "manure distributor with enclosed rustproof and self-lubricating driving gears".  It worked in the following way:
"Distribution is effected by means of a series of star-wheels, each driven by worm gearing, entirely enclosed in dustproof cases, and run continually in grease.  This obviates the necessity of lubricating by hand in the usual way, the great chambers being filled with sufficient lubricant to serve for several seasons' work.  The fertilisers cannot come in contact with the driving mechanism, thus clogging and deterioration of same is thereby prevented."
You won't see many manure distributors around the vintage rallies. When you do, have a look at the similarities in designs over the years, but a also the improvements to give a better and more even spread.
The photographs of the J. & R. Wallace manure distributor were taken at the Strathnairn Vintage Rally, September 2014.
© 2016 Heather Holmes