One of the famous implement and machine makers in Ayrshire is Pollock Farm Equipment Limited. Its roots go back to 1867 when Andrew Pollock started a shop in the Cowgate, Machine. By 1877 his address was the "Implement and Machine Works, Mauchline". He was an agricultural implement maker, a smith and a smith and farrier.
Andrew quickly recognised the importance of providing farmers with a broad range of implements and machines. In addition to making his own ones, he also acted as an agent for other makers. By 1886 he acted for W. N. Nicholson & Son, Newark on Trent, famous for their horse rakes. In later years he also sold manufactures from other of the makers such as Thomas Corbett, Perseverance Iron Works, Shrewsbury, and Harrison, McGregor & Co. Ltd, Leigh, Lancashire. All are major English makers.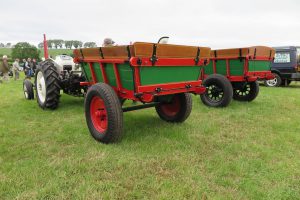 Andrew became well-renowned for his own manufactures, winning a number of awards for them. But it was those implements for cultivation of the soil, hay and straw trussers, potato diggers and cheese presses that he was especially known, even well through the twentieth century. His manufactures were, according to the North British Agriculturist in 1893, "characteristically those designed for farming as carried on in Ayrshire and the adjoining counties". He was also an inventor, applying for two patents in relation to his machine for topping and tailing turnips in 1878.

He was well-known throughout the implement-making community of Scotland, also exhibiting his manufactures at major agricultural shows including the Highland Show where he was a regular exhibitor from 1875 onwards.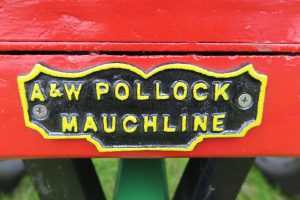 The development and reputation of his business was summed up by the North British Agriculturist in 1893. It noted how "Mr Andrew Pollock has worked his way up from the position of a local blacksmith to that of possessing one of "tidiest little" implement businesses in the west of Scotland".
By the time Andrew died in 1904 he had a well-regarded and successful business. His widow, Mrs Martha Jamieson or Pollock, carried on the business until it was transferred to his sons Andrew and William, to form A. & W. Pollock on 31 December 1912.
Pollock Farm Equipment is celebrating 150 years of Pollock in Ayrshire. Please support the company in its celebrations. The company's website is at www.pollockfarmequip.co.uk; Facebook at https://www.facebook.com/pollockfarmequipmentltd/
The A. & W. Pollock carts were photographed at the AVTMC annual vintage rally, Ayr, 19 July 2015.