Robert G. Garvie set up his own business in Bon Accord Lane, Aberdeen, in 1895 to make and sell a range of agricultural implements and machines, including threshing mills. Before that time he was a highly esteemed implement maker. This is what the North British Agriculturist, 19 July 1893 said of his early years: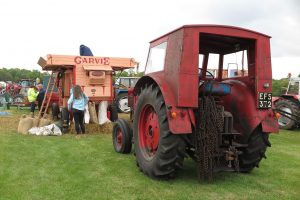 "Mr Robert G. Garvie. Mr Robert G. Garvie, of Messrs Ben. Reid & Co., is not much known to show goers [of the Highland Show], as his energies have long been focussed upon the personal management of the vast manufacturing conducted at the Bon-Accord Works. In his younger days he served an apprenticeship of five years to the joiner trade, and afterwards, when working as a journeyman in the same trade, he took a leading part in the introduction of labour-saving wood-working machinery. He was for some years a partner in the firm of James Garvie & Sons, which is still one of the largest businesses in the north. He retired from this business in 1875, in order to take up an appointment as manager of the Northern Agricultural Implement Company, Inverness. In 1876 he, along with Mr [William] Anderson, joined the firm of Messrs. Ben. Reid & Co., of which, for the last fourteen years, they have been sole partners.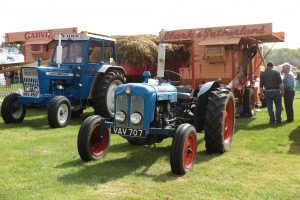 Mr Garvie has a thorough practical knowledge of the agricultural implement business in all its details, and many of the notable labour-saving appliances in use at the Bon-Accord Works were designed, and in some cases the patterns were made by himself. Every implement of whatever kind produced at these works is made under his personal supervision, and when he once puts upon any machine the stamp of his approval, that machine may be safely accepted as being perfect of its kind. As showing the appreciation which the products of the Bon-Accord Works have met with of recent years, it may be mentioned that, during the last ten years, no fewer than three gold, fifteen silver, and five bronze medals, out of a total of ninety prizes, have been awarded to them in recognition of the superiority of their products. It may also be mentioned that during the last year they have erected no fewer than eighty threshing mills on farms throughout the length and breadth of the country; and in the week prior to the Chester Show of the "Royal" they completed the erection of a threshing mill fitted with all the latest improvements on Lord Londonderry's farm at Wynard, County Durham.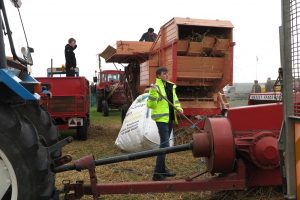 Though very fully occupied in designing new, as well as improving existing, machines, together with the work entailed in the management of a large manufacturing business, Mr Garvie, as an enthusiastic burgess of Trade, finds time to take a leading part in the Wright and Cooper incorporation, one of the incorporated trades of which he has been a member for many years. Mr Garvie and Mr Anderson are remarkably well fitted to act as the mutual complement of each other in conducting a large and most successful business such as that at Bon-Accord Works, as the former is naturally of a retiring disposition through his energies being engrossed with inventive and manufacturing work; while the latter, in addition to his thorough practical knowledge of the business, possesses in a conspicuous degree the bonhommie which is so essential to success as a showyard exhibitor. Intellectually, Mr Garvie is a man of splendid parts, and socially he is a gentleman whom to know is to admire and esteem."
The photographs of the Garvie and Clark & Sutherland threshing mills were taken at the B.A. Vintage Country Fair, May 2017.