One of the tasks for feeding livestock in the winter was preparing and mixing food. In 1889 Henry Stephens noted that the preparing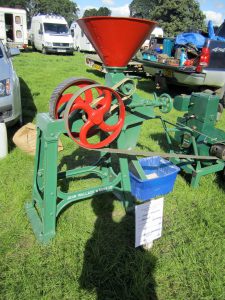 of pulped mixtures made food more pleasant for their palates and more easily digested. The principal ingredients for pulped mixtres was turnips and fodder, but there could also be some crushed cake, maize-meal or bruised grain with a sprinking of salt and sometimes treacle.
The grain was bruised or ground into meal. According to Stephens, "farmers may have their grain bruised or ground for stock-feeding at any of the country meal-mills; or, which is much better, they may have it done at the steading by one of the many first-class little mills now made for the special purpose."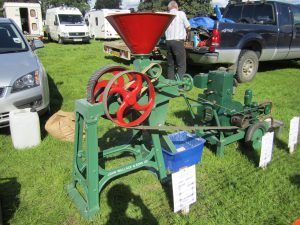 By the 1890s Scottish and English implement makers had, according to Henry Stephens, "lately given much attention to the devising and perfecting of machines for bruising and grinding corn, and there are now in the market many admirable machines or mills of this kind." He commented that "about a dozen leading firms have given careful attention during the past two years to the perfecting of grist-mills for farmers, and they have succeeded so well that their mills leave little to be desired in their working. In the improved modern grinding-mills the stone has been supplanted by metal plates, which can be replaced at will, and which render the mill more serviceable. … As would be expected, grist mills require considerable power to work them, and this has to be supplied by steam, water, or horses. "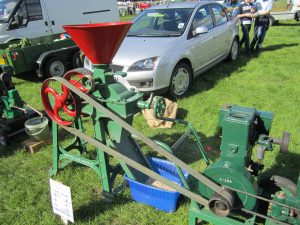 If you were a farmer or an agriculturist looking to purchase a oat, bean and malt bruisers and crushers or mills for grain and cake in 1886 you could have chosen a machine form a number of makers in Scotland and England. Most of the makers were English – reflecting their extensive making of heavy agricultural machines for processing crops. They included well-known names: Picksley, Sims & Co., Leigh, Richmond & Chandler, Manchester, W. N. Nicholson & Son, Newark on Trent, Albion Ironworks Co., Rugeley, Barford & Perkins, Peterborough, Charles Burrell & Sons, Thetford, Jeffrey & Blackstone, Stamford.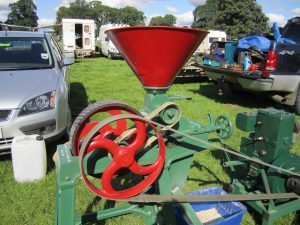 There was a handful of Scottish makers. James P. Cathcart, Buchanan Street, Glasgow had a new corn grinding mill, selling at £20. R. G. Morton, Errol, Perthshire, made a range of patent grain and spice grinding mills. Its model 8 cost £22. Henry Stephens was impressed at Morton's mill, describing it as "a modern and very ingenious mill." He adds, "like a certain historical article of furniture, "contrives a double debt to pay', for it either crushes flat or grinds into meal, as may be desired, doing both perfectly and with great rapidity." J. & R. Wallace had two models of oil cake mills of different sizes (14 and 16 inches).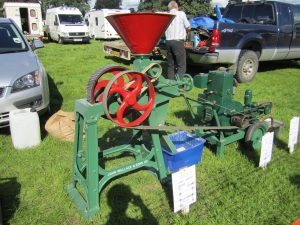 Corn bruisers were made by a number of Scottish makers: G. W. Murray & Co., Banff, had a range of corn busier, with his no. 2 selling for £7 7s. The Strathmore Agricultural Engineering Company, Coupar Angus, also had a range of bruisers of different sizes, with a small one selling at £11, an a medium one at £13. Thomas Turnbull, Dumfries, made a strong corn bruiser with smooth rollers, 12 inches long and 8 inches in diameter. Another Scottish maker was J. & R. Wallace, Castle Douglas, with two models of corn crushers with a safety spring attached, each selling for £9.
Scottish implement and machine makers were not important makers of bruising and milling machines, but they played a role in supplying these machines to farmers. However, there are still a number of them still to be seen around the rally fields. You may also see some of the machines from the renowned English makers which specialised in them.
The photographs were taken at Scotland's Farming Yesteryear, September 2013.