The major agricultural shows dominated the agricultural calendar. If you were a Scottish farmer, the peak of the show year was the Highland Show or the Royal Highland Show. For the Scottish implement and machine makers, it was one of the highlights, if not the highlight of the year. It was the place to launch new implements and machines (and enter one for the prestigious "New Implement" award), and to sell manufactures to the Scottish and other farmers and agriculturists. For some of the most important Scottish makers the Royal Show, or the "Royal", usually held in June, was another important event in their calendars. So too, was the Smithfield, held in the middle of December.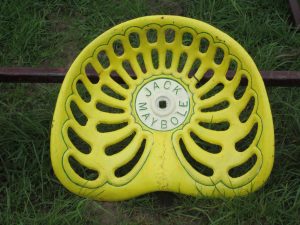 The Smithfield was one of the most important shows for the English implement and machine makers to launch new manufactures. For the most important Scottish makers, the Smithfield was a chance for them to bring their manufactures to the attention of the English makers where all the "big" names were in attendance, as well as the English farmers and agriculturists. It was also an important forum for them to extend their reputations and their markets.
The number of Scottish implement and machine makers that attended Smithfield was, however, small. Their attendance reveals a great deal about who were the key players in the Scottish implement and machinery industry, their aspirations and the manufactures that they wanted to promote to the English agriculturist. Their numbers varied from year to year according to whether they had new manufactures and other factors. In 1903 there were six Scottish exhibitors; there were 14 in 1914.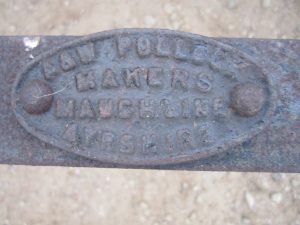 Some of the Scottish makers were regular attenders. they included: Andrew Pollock (later A. & W. Pollock), Machine, J. D. Allan & Sons, Murthly, Thomas Hunter & Sons, Maybole, Alex Jack & Sons, Maybole, Ben Reid & Co, Aberdeen, and John Wallace & Sons Ltd, Glasgow. It is interesting to note how many of them are from Ayrshire.
Because of the limited amount of space at Smithfield, and the expense of taking implements, the Scottish makers exhibited key implements and machines. They also reflected their key manufactures and new productions, as well as improvements to them. They were also ambitious in what they took, as well s the stands that they hired: in 1903 the Scottish farmer reports "Andrew Pollock, Implement Works, Mauchline, Ayrshire, deserves credit and energy and pluck that promoted him to take stand 50, where his wares were on show".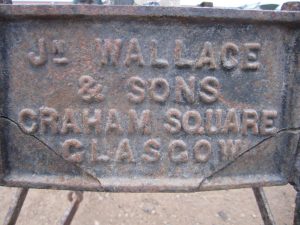 In 1903 J. & R. Wallace exhibited several of their manure distributors. Andrew Pollock's manufactures included a cart with hay loader. J. D. Allan exhibited their thistle and bracken cutters. Thomas Hunter had a scarifier, drills, food coolers, hoes and many other implements. Alex Jack had potato-diggers, and manure distributors. ben Reid & co., had manure distributors, cultivators, pumps and other implements. John Wallace & Son Ltd, had "their usual exhibits" which included mowers and reapers, ploughs, potato-difggers and harrows.
All of these implements and machines were intimately associated with these makers. By 1903 they were associated with them. For example, the implements of Alex Jack & Sons were "well known: while John Wallace & Son was "already famed for their agricultural implements".
We no longer have the Smithfield Show. But if you ask members of the agricultural community and implement makers what they associate December with, they might hjust say "Smithfield" and start reminiscing about the show and going to London.
The photographs of nameplates, seats eetc were taken at various rallies and events in Scotland in 2014 and 2015.