Have you ever noticed how many machines have belts or chains to drive power?
Balata belting was made by a number of companies in Scotland.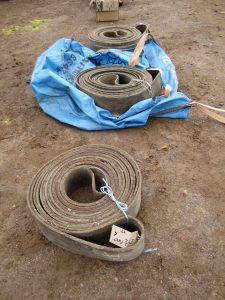 They included R. & J. Dick Ltd, Greenhead Works, Glasgow, established in 1846, and maker of "Dick's Original" balata and rubber belting.
The company was a belting manufacturer, a driving rope manufacturer, and a belting machinery manufacturer.  It was a regular advertiser in the farming press, especially the North British Agriculturist, in the 1930s, with its very distinct advertising; it also advertised in the Glasgow post-office directories with distinct adverts.
Further information on R. & J. Dick can be found on Grace's Guide website: http://www.gracesguide.co.uk/R._and_J._Dick
The photographs were taken at the National Tractor Show, Lanark, September, 2014, and the B. A. Vintage Country Fair, May 2015.
© 2016 Heather Holmes