Weekly markets were, and still are, an important place for farmers to meet their fellow farmers and members of the agricultural community and to conduct business.
Back in the late 1860s when agricultural implement agents were starting to emerge in Scotland, they needed a place where they could set up their stands and promote and sell their implements and machines to farmers and other agriculturists.  The corn exchanges and cattle markets in the Scottish towns and cities, and especially the large markets in Edinburgh and Glasgow, were a natural choice for them, being established places for farmers to conduct their business.
By the mid 1870s a number of implement agents, as well as makers, had stands at the corn exchanges and in the Corn Exchange Buildings throughout the market towns of Scotland.  Some simply had a stand at the market, others an office space or rooms.  For example, in 1864 John Pringle of the Scottish Agricultural Implement Depots, Edinburgh, Kelso and Dunse, was also found "at the Corn Exchanges, Edinburgh, Dalkeith, Haddington, Dumfries, Cupar, Dunfermline and Kirkcaldy".  Another important user of the markets was A. & J. Main & Co., Glasgow.  In 1870 that company had an address that included the "Corn Exchanges Stirling, Falkirk, and Ayr, and Cattle Market Glasgow on market days".  By 1874 it advertised that "representatives of the company attend the markets at Edinburgh, Dalkeith, Cupar, Kirkcaldy, Kelso, Glasgow, and Stirling."  That maker must have had the largest network of any implement and machine maker in Scotland.  Across Scotland, in 1877 Harper & Co., had an address at Market Buildings, Hadden Street, Aberdeen. In 1886 A. T. Pringle, had an address in the Corn Exchange Buildings, Grassmarket, Edinburgh, an address and place where a number of other makers and agents were located.  They included A. & J.Main & Co., Edinburgh (from the 1880s) and Jonathan Mack (in 1890).  In Glasgow the Corn Exchange Buildings was the home to companies such as W. G. Morrison & Co., timber merchant and importer of foreign pit wood, from the late 1870s.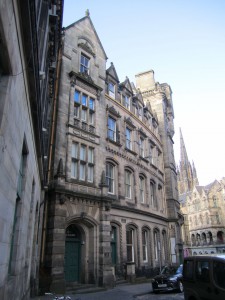 Agricultural districts also developed around the agricultural markets.  In Edinbrugh these included the streets around the Grassmarket, including Victoria Street and the top of George IV Bridge, where for a number of years the Scottish Chamber of Agriculture and the Highland and Agricultural Society of Scotland had their offices.  You can still see the former offices of the Highland Society if you stand outside the National Library of Scotland and look across the road.  There you will see the Society's "Museum".
In Glasgow, Graham Square was an important centre for implement and machines makers in Glasgow and the west of Scotland from the mid 1860s onwards. Some of the most important companies had an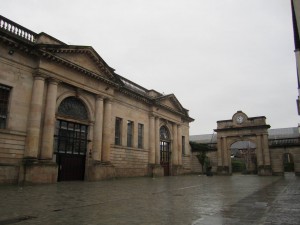 office there.  From 1865 John Wallace & Son had an address at 7 Graham Square (by the mid 1870s, it premises extended to numbers 7-15).  In that year Dunn & Co., "agricultural implement and reaping machine agents" had an office at number 11.  In 1870 H. Lyall & Sons, agents, had premises at numbers 15 and 17.  The business was an important, but short-lived, focus for a number of Scottish as well as English implement and machine makers including J. & T. Young, Ayr, A. Mollison, Kelso, Thomas Hunter, Maybole, Trustees of William Sawney, Beverley, Yorkshire, Picksley, Sims & C. Ltd, Leigh, Lancashire, Lillie & Elder, Berwick on Tweed, and Brigham & Bickerton, Berwick On Tweed. In 1879 J. P. Cathcart, an agricultural machinery merchant, which had an office at 135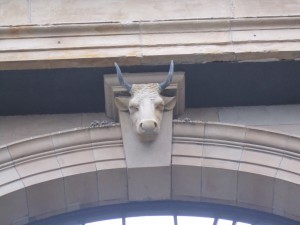 Buchanan Street, Glasgow, and Ayr, also had a depot in the Square.  In 1880 Alexander Jack & Sons, Maybole, had an address at number 32, and by 1886 this maker had located to no. 20.  In 1886 the English maker Harrison, McGregor & Co., also had an address in the Square; this was an early date for an English maker to have a business address in Scotland.  In 1889 Andrew Bullock had an address at number 16, while in 1892 P. & R. Fleming & Co., had an address at number 16; it had its works at Market Street which adjoined Graham Square.  By 1906 Charles Weir, Strathaven, had a Glasgow depot at the "corner of Graham square".  This was later described as the "right hand corner" of the Square.
When the cattle and corn markets moved addresses in the large towns, as a result of town planning needs, and to established new market centres, such as at Chesser, Edinburgh, home to the Edinburgh cattle markets, slaughterhouses and the Edinburgh Corn Exchange, until recent decades, implement and machine makers also moved with them.
My grandfather was a regular market attender at Chesser on a Wednesday.  It was an important place for him to make contact with the Edinburgh implement and machine makers that had a stand there and to conduct business.
The mart was a focal point for a number of Scottish agricultural implement and machine makers and for farmers.  It was a place that facilitated business between the two. It brought new innovations, the latest developments, as well as the stock implements and machines, and news of second hand machines, to the attention of farmers and other agriculturists.  It let farmers and other agriculturists purchase these implements and machines and for them to use them on their farms.  The mart was therefore a key part of the business of selling and diffusing agricultural technology in Scotland.
Photographs: India Buildings, Edinburgh, and the former Glasgow cattle market and Graham Square, Glasgow.
© 2016 Heather Holmes