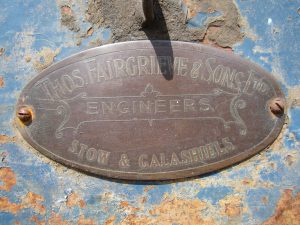 As well as the larger implement and machine makers in the towns, cities and some larger villages, there were a large number of small businesses scattered throughout rural Scotland which served the farming community with implements and machines or repaired them.  They included engineers, millwrights and smiths.  Over time, some of them also started to stock a small number of implements and machines from other makers, and acted as local agents, a role that could transform their businesses.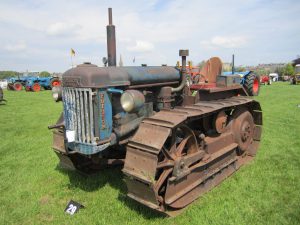 One of these businesses was Thomas Fairgrieve, a millwright, engineer and cycle agent at the Cockholm Works, Stow, Midlothian.  By 1914 Thomas was joined by his sons in his business, which became known as Thomas Fairgrieve & Sons.
While the business continued to be a millwright and engineer, it also started to act as an implement and machine agent.  In 1904, it had held the agency for Richard Hornsby & Sons Ltd, Grantham.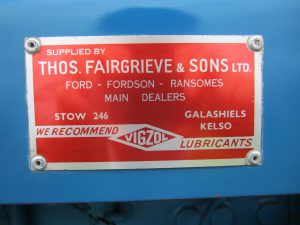 A big change came in the mid 1920s, with the appointment as an authorised Ford dealer. From 1925, the business was listed in directories as "Thomas Fairgrieve & Sons (authorised Ford dealers), Cockholm Works, Stow, Midlothian".  It became a company limited by guarantee in 1938, becoming known as Thomas Fairgrieve & Sons Ltd, until it was liquidated in 1977.
The business continued as a Ford and Fordson dealer. During the Second World War it had the government contract to supply local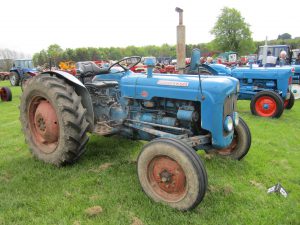 farmers with Fordson tractors – if any broke down they had to be repaired within 24 hours.  With the Ford's association with Ransomes – and the FR range – it became a Ransome agent in the mid 1960s.  In 1965 its other agencies included New Holland, Simplex and County.
Fairgrieve became the main Ford agency for the Borders, having branches in Galashiels and Kelso.  You can still see the dealer plate around the vintage rallies throughout Scotland, and especially the Borders.
Today, at a vintage rally if you ask someone what Fairgrieve's business was, they would probably say they were a Ford agent.  Had you asked that question in 1905, they would have said an engineer and millwright, with an agency for Hornsby of Grantham.
The photographs were taken at the Borders Vintage Rally, Kelso, May 2014.
© 2016 Heather Holmes