If you were a farmer wanting to buy a set of Scottish-made harrows in 1952 you could have bought a set from a number of makers.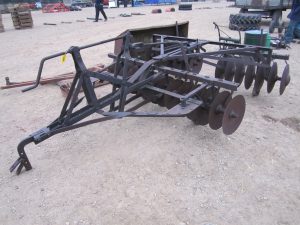 Disc harrows were largely made by English makers such as E. H. Bental & Co. Ltd, Heybridge, Maldon, Harry Ferguson Ltd, International Harvester Company of Great Britain Ltd, and Martin's Cultivator Co Ltd, but there were also Scottish makers. A. Newlands & Sons Ltd, Linlithgow, manufactured a set of tractor-drawn tandem harrows which had a working width of 7 feet 6 inch and either 20 or 24 inch diameter discs. A. & W. Pollock, Machine, had two sets of tandem harrows for the tractor: 24 inch x18 inch diameter discs and the larger 28 in x 18 inch diameter discs.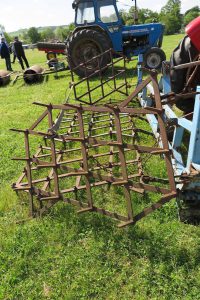 More commonly, Scottish makers manufactured a range of harrows. Some of them had been making implements for decades and were well-renowned makers. In the east, Lennox M. Blyth, Chirnside, Berwickshire, manufactured zigzag harrows for the tractor. They had independently held tines, pointed at both ends, and were reversible. They could be fitted to a transport tree to fit Nuffield, Ferguson, Fordson, and David down tractors. In the south-west, John Wallace & Sons (Ayr) Ltd, Ayr, had chain and zigzag harrows, while Charles Weir Ltd, Striven, was also a maker of harrows.
In Edinburgh there were two makers: J. L. & J. Ballach, Gorgie Implement Works, who made tractor drawn diamond harrows (the company was also a noted maker of harrow teeth) and James H.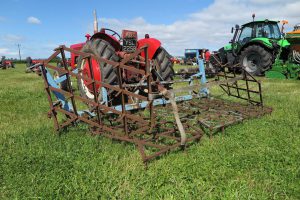 Steele, Harrison Road, who made tractor drawn zig zag harrows with combined whippletree and transporter.
In central and eastern Scotland, there was Alexander Thomas, Guildton, Perthshire, and McCartney & Miller, Bridgend, Ceres, Fife, the latter of which made horse drawn harrows to take 26, 27 or 28 inch drills. A. Newlands & Sons Ltd, Linlithgow, had tractor or horse drawn spring tooth harrows. Perhaps the most extensive maker of all was Cruikshank & Co., Denny, Stirlingshire, with its "Denny" range. They included the spring tine for horse draught; zigzag harrows for either horse or tractor draught, zigzag harrows for tractor draught (with a working width of from 12 feet 6 ins to 19 feet), grass seed and wheat (working width 8ft-16ft), saddleback (with two or three rows), or "Staryator", a star wheel harrow attached to a plough.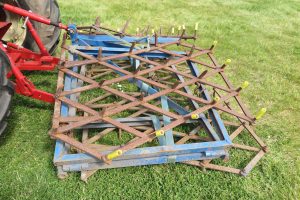 From the north-east, George R. Brown, Pluscardin, Elgin, manufactured all types as well as drill harrows for the Ferguson lift. George Forsyth, Tocherford Smithy, Wartle, Aberdeenshire, made harrows for tractor draught. MacDonald Bros, Portsoy, made spring tooth harrows for the tractor which could also be used as a cultivator. William Nicol, Tillyfourie, Aberdeen, made a range of tractor drawn harrows, including spring tine ones (13 or 15 tines in 2 rows, or 13, 16, 19 tines in 3 rows), seed harrows, potato harrows, and chain harrows.
So, if you wanted to buy a set of Scottish-made harrows in 1952 you could choose one from a number of makers, making either horse of tractor harrows of a range of types including diamond, zig-zag, spring tooth, spring tine, seed, potato, chain, and drill. Some were long-established and well-known makers, dating back to the second half of the nineteenth century when Scottish agricultural implement making became a well-established industry.
The photographs of the harrows were taken at the Fife Vintage Agricultural Machinery Rally, June 2015.