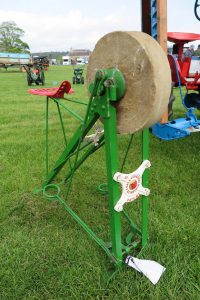 Knives and other sharp blades played an important role on the farm, especially in harvesting crops.  Well, there were sickles, scythes, and also reaper, binder and combine harvester sections. And hand knives as well.
All required to be sharpened.  There were scythe stones as well as larger grinding machines.  There were also specialist section sharpeners that made the job easier.  A number of Scottish agricultural implement and machine makers made knife sharpeners. They included Alexander Ballach & Sons, Edinburgh, and William Dickie & Sons, Victoria Works, East Kilbride.  English makers of section sharpeners included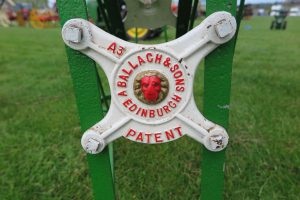 Thomas Corbett, Perseverance Iron Works, Shrewsbury.
We can under-estimate the important roles of these machines.  A sharp knife made a real difference in how easy (or not) it was to cut a crop (whether grain, green crop such as turnips, or vegetables such as onions) and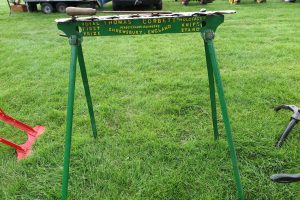 the effort involved in the work.  A sharp knife just cut like a warm knife through butter!
Next time you see a knife sharpener, think about its important role, especially at harvest time!
The photographs of knife sharpeners were taken at the Borders Vintage Rally, May 2014, and at the Highland Folk Museum, Newtonmore (where there is an excellent selection).
© 2016 Heather Holmes