One of the well-known names of agricultural implement makers and agents in Fife was Farm Mechanisation Co. Ltd, of Ladybank, established by Gavin Reekie in 1947.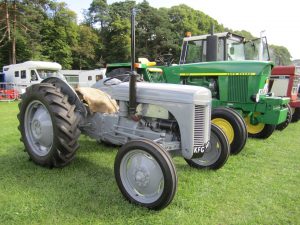 From its earliest days its name was closely associated with Massey Ferguson. Indeed, the company was set up to market the Ferguson TE20 tractor with its revolutionary three-point linkage. In 1958 its strapline was "The Massey harris and Ferguson people". You will see the Farm Mechanisation badge on many Fergies and MF tractors round the rally fields!
By 1953 the company was associated with Reekie Engineering Co. Ltd, Arbroath, and Stirling Tractors, St Ninians, Stirling. In 1965 an advert in The Scottish Farmer recorded it as a member of the G. Reekie group of companies.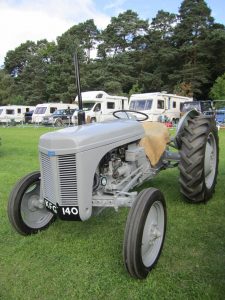 It extended its activities in Fife. By 1955 it had a premises at Halbeath Road, Dunfermline, and in 1959 a further one at South Road, Cupar.
It was not until 1951 that the company started to exhibit at the Highland Show, doing so until 1964. It entered a number of its implements for the prestigious new implement award. In 1951 it entered its "Farmec" 3 row fertiliser unit (invented by G. R. Reekie); in 1953 the Farmec universal elevator as well as its improved 3 row fertiliser unit for mounted riders; in 1962 a pressure kiln dryer and the Farmec power drive 3 row fertiliser unit. The Royal Highland and Agricultural Society of Scotland awarded a silver medal in 1953 for its fertiliser unit for mounted riders.
The company was a regular advertiser in the Scottish agricultural press, both the Farming News and The Scottish Farmer from 1948 onwards.