By 1905 Wright Brothers of the Boyne Mills, Portsoy, made reapers, drillers and threshing mills. It was their threshing mills, and as a millwright that the company was especially renowned.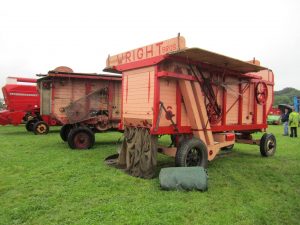 By the late 1940s the business was undergoing significant changes. In early 1948 steps were being taken to incorporate it to become a company limited by guarantee; the company received its certificate of incorporation to become Wright Brothers (Boyne Mills) Ltd.
Its certificate of incorporation provides details of the arrangements to bring about changes to the business and the activities that it was to undertake in following years:
"The objects for which the company is established are:-
(a) to acquire and take over as a going concern the business now carried on at Boyne Mills, Boyndie, Banffshire, and elsewhere in Scotland by William Alexander Wright, Portsoy, Banffshire. Harry Scott, Portsoy, banffshire, and William Souter, Alves, Morayshire, trading under the name of Wright Brothers, millwrights and electricians, and all or any of the assets of the said business, and for that purpose to execute with or without modification a Minute of Agreement proposed to be entered into immediately after the incorporation of the company between the said partners of Messrs Wright Brothers on one part and the company of the second part, a draft of which Minute of Agreement has been prepared .
(b) To carry on the business of manufacturers, sellers and dealers in farm and other tractors and agricultural machinery and implements of all types, designs and descriptions.
(c) To carry on the business of millwrights, consulting engineers, metallurgists, ion founders, mechanical engineers, tool makers, brass founders, metal workers, boiler makers, machinists, iron and steel converters, and smiths, and to buy, sell, manufacture, repair, convert, alter, let on hire and deal in machinery, implements, rolling stock and hardware of all kinds.
(d) To carry on the trades or businesses of electricians, electrical and general engineers, generators and storers of electricity for the purpose of motive power, light, heat, or otherwise, manufacturers of and dealers in all kinds of apparatus and accessories required for and capable of being used in connection with the generation, distribution, supply, accumulation and employment of electricity, or any business in which the application of electricity or any like power or any power that can be used as a substitute therefore as or may be useful or convenient, or any other business of a like nature.
(e) To carry on as principal or agents in Great Britain, or elsewhere, the business of merchants and dealers in and importers and exporters of all and every kind of agricultural, electrical, wireless, telephonic and telegraphic plant, fittings, machinery, tools, machine tools, apparatus, accessories, furnishings and supplies.
(f) To carry on the business of general merchants, suppliers' agents, exporters and importers, wholesale and retailers of all and every kind of goods and articles capable of being bought and sold, whether or not related directly or indirectly to any of the foregoing.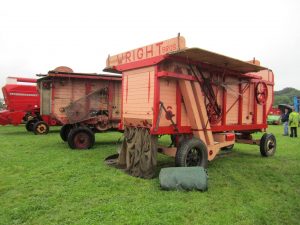 The company had a share capital of £20,000, divided into 20,000 shares of £1 each. There were two subscribers, Alex Wright and A. Scott. The registered offices were at Boyne Mills.
The company continued in business until 1955. On 7 February the company passed an extraordinary resolution to voluntarily wind up the company. It final winding up meeting was held on 17 October 1956.
You can still see threshing mills made by William Wright, later Wright Brothers around the Scottish rally fields. Like a number of them, they changed their business organisation to different business models and ways of working.
The Wright Bros threshing machine was photographed at New Deer Show, August 2014.