Most of us associate double furrow ploughs with the era of tractor ploughing. However, double-furrow ploughs were used well before the first tractors came onto Scottish farms.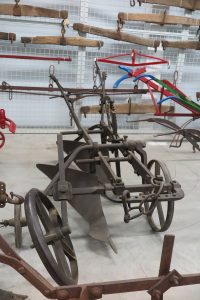 The "modern" double furrow plough was invented by a small plough maker in the parish of Kinmundy in Aberdeenshire in 1867: Thomas Pirie. His double furrow plough, which could be used under a broad range of conditions, and not only on light land, revolutionised the making of ploughs and ploughmaking in Scotland and more widely throughout Britain, in the 1870s. It also revolutionised ploughing in areas where there were not too many stones and boulders. But it was also a serious competitor to the revolutionary steam ploughing which was slowly extending into Scotland by that time.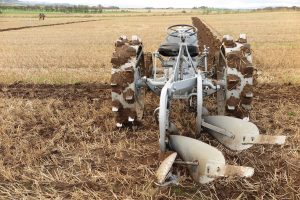 Within only a few years makers from the small local smiths, to the largest plough makers in England, such as Ransomes, Sims and Head, Ipswich, J. & F. Howard, Bedford, and Richard Hornsby & Sons, Grantham, were all making double furrow ploughs. And they made them in their thousands. Not only were they used locally, but they were also sent round the world. Ploughs from Pirie's small shop in Kinmundy went to Australia. In only a few years after patenting his design, Pirie could state that his plough "has gained for itself a reputation with the practical farmer, not only in Great Britain, but over the whole of the civilised world, such as was never achieved by any other agricultural implement in so short a time." That is quite an assertion.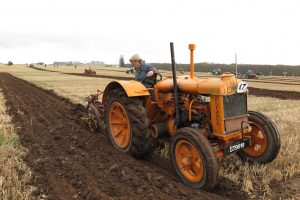 Pirie's plough had a revolutionary design: it dispensed with the sole, shoe and side plate and ran on three wheels which helped to reduce the draught. It had a framework that looked somewhat like a lever-grubber. It was a design that was copied, the patent infringed and court proceedings instigated. But it was also a design that got plough makers thinking about the mechanics of plough-making and how to produce a double-furrow plough that had less draught than a single furrow plough, and could also be used to sub-soil the ground as well. Designs improved quickly, mainly because of the large numbers of makers working on and perfecting their designs.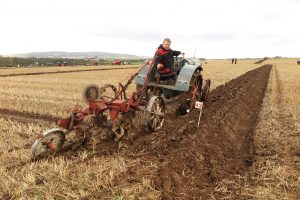 As an innovation, the double furrow plough had a number of economic benefits: two horses could plough two acres a day instead of one; only one man was required to turn two furrows; there was less horse and man power required, together with their costs of maintenance. It was also a relatively cost effective way to engage in multiple-furrow ploughing. Whereas a double furrow plough cost around £10 to purchase, a set of Fowler's double steam ploughing tackle was in the order of £1,400. For some farmers there was no competition between the two ploughing systems, but for other steam ploughing had its own advantages, just as the double furrow horse ploughing had for other farmers, in terms of ease, practicality and costs. Double furrow horse ploughing also allowed work to be more quickly undertaken and for crops to be more quickly put into the ground in better conditions.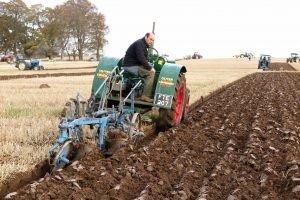 After double-furrow ploughs came to be widely used in Scotland from the early 1870s onwards, established ploughmakers in Scotland continued to make them. By the turn of the twentieth century George Sellar & Sons, Huntly, the largest ploughmaker in Scotland, continued to make them, doing so until at least the mid 1920s when it started to make its double (and even triple) furrow tractor ploughs.
Doble furrow ploughs were always regarded for their labour saving properties. They came into their own right during the First World War when they were used as labour-saving devices to turn over the increased acreages of land required for food production.
Double furrow ploughs attracted considerable interest when they were first introduced. Next time you are at your local ploughing match and are commenting on the vintage (and horse) ploughs and their ploughing, just imagine what it was like to see the revolutionary double furrow ploughs at work in their day. The spectators from the 1870s witnessed a revolution!
The photographs of the double-furrow ploughs were taken at the Highland Folk Museum, Newtonmore (Sellar's double furrow horse plough), and at the Easter Ross Ploughing Match, October 2016.