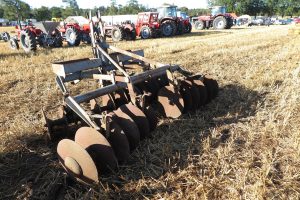 The early tractor makers were not usually specialists in making agricultural implements or machines. Conversely, the Scottish agricultural and implement makers were not tractor makers (though Wallace (Implements) Ltd was the exception).
The recognition of the need to bring together the making of tractors and implements suited to them was an important step forward in agricultural engineering. By the 1950s we see trade directories which record ploughs suited for particular makes of tractors. For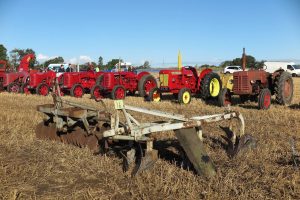 example ploughs of William Begg & Sons, Tarbolton, Ayrshire, were suitable for Ferguson tractors, Ploughs made by Cruikshank & Co., Denny, were suited for Ferguson and David Brown tractors while other models suited Fordson Major and Nuffield tractors.
One of the English tractor makers to closely associated tractors and implements, and to develop and produce a wide range of implements and machines was Herry Ferguson Ltd, Coventry. Ferguson had immense foresight to recognise tractor and implements and machines as a work unit.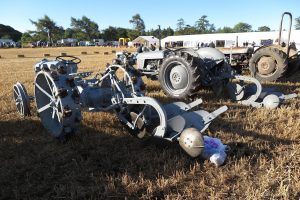 Ferguson developed an impressive range of implements and machines to fit the TE20, FE35 and 65 tractors. He also issued manuals to state which implements could be used without modification, those which required modification and those that could not be interchanged between tractors.
In 1945, for example, under the Ford-Ferguson tractors, implements for the tractors included a weeder, sweep rake, Lister planter, rear mounted mower, disc plough, blade terrace, spring tooth harrows, semi-mounted tandem, trailed disc harrow, 2 row drill planter, disc terrace, crop cultivator, middle buster, brush and bog harrow, disc terrace, soil scoop, and saw. Accessories included tire and pump gauge, belt pulley assembly, air cleaner extension stack, lighting kit, power take off attachment, and storm cover.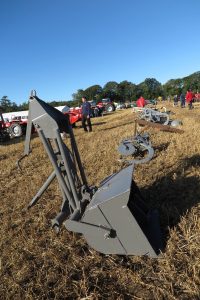 The implements for the Ferguson TE were even more extensive. They also included beet lifters, beet toppers, compressors, cranes, harrows, cultivators, disc harrows, disc ploughs, earth leveller and blade terrace, earth scoops, fertiliser spinners, hammer mills, hay rakes, hay sweeps, manure loaders, rear mounted mowers, ploughs, potato planters, seed drills … the list goes on much longer.
It really was a comprehensive farming system for the agriculturist. However, it must have had quite an impact on the Scottish and other implement and machine makers that were producing their own manufactures. If you had a Fergusn – why buy from another maker if the Ferguson name was equated with simplicity, efficiency and reliability?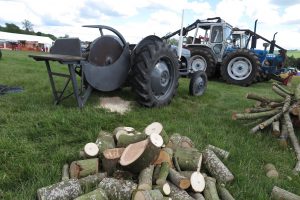 That the Ferguson implements and machines were popular is evidenced by the large number of them that you can still see around the rally fields – and of course for the enthusiasm and memories which the "wee grey Fergie" conjure up.
The photographs were taken at the Strathnairn vintage rally, October 2017, and the Fife Vintage Machinery Rally, June 2017.