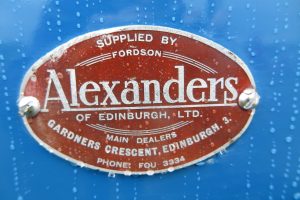 If you were an agriculturist in the Lothians from the end of the First World War onwards you would have been ware of the name of Henry Alexander & Co., Nottingham Place, Edinburgh. By 1940 it had become incorporated as Alexanders of Edinburgh Ltd. In 1949 its agricultural department was located at 64 Fountainbridge; by 1954 its Rosemount Works were at Gardners Crescent. In 1962 its agricultural department had moved to the Hayfield Tractor Works, 536 Gorgie Road, Edinburgh. Gorgie Road was close to the Gorgie Markets and to other agricultural businesses including Ballachs, and George Henderson.
The company was one of the early car dealers in Scotland to sell tractors. It first exhibited in the agricultural press, in the North British Agriculturist, on 17 March 1921. An advert from later in that year, in October, advertised the Fordon tractor ex works, Cork. It emphasised its versatility fro ploughing, discing, harrowing, cultivating, manure spreading or any operation you desire. It also advertised its tractor trailer waggon: "we can drive the tractor to your farm on the shortest possible notice and demonstrate on your field its wonderful powers. There will be no obligation to purchase".
The company was one of the dealers to exhibit tractors at the Highland Society of Scotland's exhibition of farm tractors and tractor implements in 1922. It exhibited the Fordson tractor: "a four wheeled tractor, with unit construction as regards the assembly of engine, transmission of gear box, and rear-axle casing." The judges reported: "Two Fordson tractors were shown, drawing Oliver ploughs, one single-furrow and one 2 furrows, on stubble, and both with e furrows on lea. This is a good light tractor, weighing only 21 1/2 cwt. It dis its work in a satisfactory manner. It is easily driven and readily turned at the headlands. On account of its comparatively low weight the Committee regard this tractor as well suited for lighter spring tillage operations, and for pulling a binder. At the price £120, this tractor appears to be extraordinarily good value. It has to be noted, however, that the engine is not governed, and, unless fitted with a governor, it is unsuitable for driving stationary machinery such as a threshing-mill."
While the company was an early exhibitor at the tractor demonstration, it did not exhibit regularly at the Highland Show. Indeed, it only exhibited in 1927 at Edinburgh and in 1932 at Inverness.
I remember seeing the Alexander name badge on my father's tractors. It was our local dealer.
You can still see quite a few Ford tractors with the Alexander badge around the rally fields – and not just in the Lothians where the company had its business.