Implement and machine makers has their own trade names as well as strap lines for their businesses.
One strapline that was well-known in the Lothians from 1914 into the mid 1960s was "Everything for the farm".  This was associated with James H. Steele and later James H. Steele Ltd.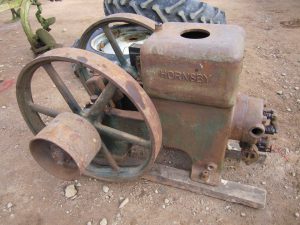 James H. Steele started business as an agricultural implement ad machine agent in 1914, when he set up his business at 61 Harrison Road, Edinburgh.  James had been in the employment of P. & R. Fleming, Glasgow, as a representative for their business in Edinburgh and the East.  He must have been a popular and successful businessman as that company inserted an advert in the North British Agriculturist, to inform readers and customers that James was "out of their employment" and no longer their representative.
By 1916 James had moved his business premises to 2 Ashley Terrace in the city, where he remained until 1919.  In 1918 he had also taken a stand at the Edinburgh Market.  He is again recorded at Harrison Road in 1920 where James and his company remained into the early 1950s, then moving to nearby West Bryson Road.  The company continued to trade until 1965; it was dissolved in mid 1970.
The company underwent a number of organisational changes through its history.  In the early 1920s, the company had a representative in Lanarkshire – Mungo Steele, Huntlygate, Lanark.  A few years later it had taken over the implement and machinery department of A. & J. Main & Co. Ltd, and in 1925 was "now in a position to supply wearing parts for all machines purchased from them".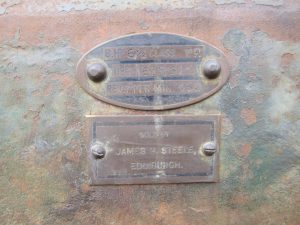 By 1945 the company had premises in Edinburgh, Lanark, and Cupar. In 1943 the Edinburgh premises included an assembly and service depot at Gray's Mill, Langston Mill, Slateford, which were then moved to West Bryson Road.  These premises became the tractor repair department in 1956.  The company became a limited company by guarantee in June 1941, and was managed by members of the Steele family who were also Directors.
James first used the strapline "Everything for the Farm" in 1919.  In fact, he used it as the main way to advertise his company, even until after the company became a limited one.  Steele's work as a commission agent is recorded from 1920, and as a maker and agent from 1924.
The company was agent for a number of makers.  In 1920 they included a wide variety, such as Kenneth Mackenzie, Evanton; Ruston & Hornsby Ltd; Harrison, McGregor & Co. Ltd; Richmond & Chandler Ltd; Ransomes, Sims & Jefferies Ltd; Petters Ltd; G. C. Ogle & Sons; William McBride & Sons; Reid & Leys; Marshall & Philp, J. B. Edlington & Co. Ltd; William Sinton & Son; Hood, Smith & Co; and Wilmot.
In 1939 the company sold implements and machines from makers such as Minneapolis-Moume Power Implement Company of Canada; David Brown Tractors Ltd; John Wilder Ltd; Ransomes, Sims & Jefferies Ltd; Harrison, McGregor & Co. Ltd; W. N. Nicholson & Sons Ltd; J. D. Allan & Sons; Ruston & Hornsby Ltd; Alex Laurie & Sons; Wolseley Sheep Shearing Machine Co. Ltd; Cruickshank & Co. Ltd; Cooch & Son; John Munro; Philip Pierce & Co. Ltd; A. & W. Pollock; S. M. Wilmot & Co. Ltd and A. Hunter & Sons.
For tractors, the company was a Ferguson dealer in 1937, and one for David Brown, Bristol, Marshall and Fowler in 1955.  In 1965 it was appointed as a John Deere agent, and was one for Nuffield.
So, as James H. Steele's strapline says, "Everything for the Farm"!
The photographs of the Ruston & Hornsby engine, supplied by James H. Steele, were taken at the Scottish National Tractor Show, Lanark, 2013.
© 2016 Heather Holmes