A number of machines were available to farmers to prepare food for livestock.  One of these was chaff cutters.  In 1889 Henry Stephens wrote: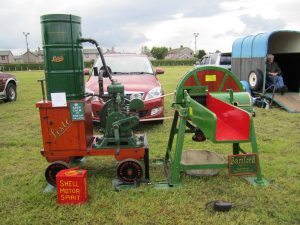 "It has been well proved in practical experience that hay and straw are economized by being cut into short pieces, or chopped, as it is generally termed.  In the short condition fodder is not so liable to be wasted by the animals to which it is given as food, as when it is put before them in its natural length.  On the scope of economy, therefore, chaff-cutting is to be commended, while it has the further advantages of rendering hay and straw more suitable for mixing with linseed gruel, warm mashes, or with meal.  Cake, and roots, as in the pulping system.  Modern chaff-cutters accomplish their work most admirably, and it is wonderful how long some of them withstand the great tear and wear they undergo." 
If you had wanted to buy a chaff cutter in 1886 you could have bought one from a number of makers and agents in Scotland.  They included A. Bulloch, Graham Square, Glasgow, James P. Cathcart, Ayr, and Edinburgh, Gordon & Coltart, Castle Douglas and Dumfries, and J. & R. Wallace, Castle Douglas.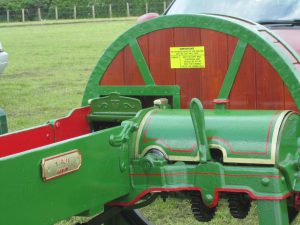 While A. Bulloch made own chaff cutters, selling at between £2 10s and £6 10s, most sold machines made by other makers. Most of these makers were English companies, some of who were well known for their manufacture.  They included Thomas Corbett, Perseverance Iron Works, Shrewsbury, John Crowley & Co., Meadow Hall Iron Works, near Sheffield, Harrison, McGregor & Co., Albion Iron Works, Leigh, Picksley, Sims & Co. Ltd, Bedford Foundry, Leigh, Lancashire, and The Albion Iron Works Co., Rugeley, Staffordshire.
They had a wide range of chaff cutters.  For example, in 1886 Harrison McGregor & Co. had machines for hand and power or for hand or power, which ranged from £2 10s to £6 15s in price.  Models included the CYL, CSA and the 3B.
The photographs shows chaff cutters from Bamfords, Uttoxeter, which were supplied by T. Duff, Annan. Thomas Duff was a gasfitter, retail ironmonger and wholesale ironmonger and implement agent in 1921.  By 1922, he had premises at 80 High street, Annan, and at Dumfries and Lockerbie.  By 1940 the company described itself as an "agricultural engineer".  It later became incorporated and a wholly owned subsidiary of Rickerby Ltd in 1956.
The photographs were taken at the Dumfries and Galloway Vintage Machinery Club vintage rally, May 2014.
Source: Henry Stephens, The book of the farm, Edinburgh, 1889.
https://archive.org/stream/cu31924000275804#page/n121/mode/2up 
© 2016 Heather Holmes