The Scottish agricultural and provincial press sometimes includes discussions of the state of agricultural implement making in specific districts of Scotland. These accounts are sometimes critical of what was being made – or not being made. They can provide details of the main makers and their manufactures.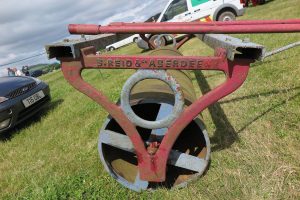 One account that was published in the Scottish farmer in 1862 was reprinted in the Aberdeen press and journal, in September that year. It provides an account of implement making in the north-east, using the exhibition at the Royal Northern Show as a showcase to view the industry. It reads:
"The exhibition of agricultural implements at the late meeting of the Royal Northern Society at Aberdeen presents an opportunity for offering few remarks on the implements and machines used in the northern part of Scotland-of which Aberdeenshire may in most respects be held to be the representative county-as compared with those used in the South, and especially for calling attention to such of them as appear to possess any superiority in form or construction.
It stated that the exhibition of implements at Aberdeen on the 31st July, limited as it was, may be reckoned the largest that has appeared at any local northern show. The northern societies and clubs have confined their attention almost exclusively to the exhibition and improvement of cattle and horses, more especially the former; and the success that has attended their persevering efforts in that direction us now well-known and appreciated.
With respect to implements, they seem to have been content to obtain two or three of the principal articles used on the farm sufficiently well, and certainly substantially, made by the local wrights and blacksmiths; and those tradesmen deserve great credit for the excellent specimens which they turn out of the two main articles required by their customers-namely, the cart and the two-horse swing plough. No better samples of the one-horse Scotch part, or "box cart" as it is called, need be desired than those made by Messrs Mitchell & Son of Peterhead, and by Mr Simpson of the same place; and both of these firms had samples of their workmanship on the ground at Aberdeen. At the same time, it may in justice be allowed that not a few other local tradesmen supply their customers with articles scarcely, if at all, inferior to those made in Peterhead. These carts are provided with very light hay-tops or frames, as they are locally called, for use in harvest or at other times when required. In a district of country in which stones, great and small, have frequently to be carts, "stone carts" are not seldom in requisition; and these are provided by strongly-made shallow boxes which, where required, fit upon the same wheels, and to the same "shafts", as the common or box carts. The swing plough (always now made of iron) is in universal use. A good deal of uniformity prevails as to its construction, the chief differences being in the form of the mould-board. In the case of some makers, there seems to be tendency to approach, more or less closely, to the form of mould-board adopted by Howard and other English manufacturers. Messrs Sellar & Son, of Huntly, have obtained a wide reputation for ploughs, the result not only of their superior skill, but of their enterprise in forwarding their implements to the Highland Society's shows, and to the International Exhibition in London. There are very far, however, from monopolising the making of ploughs in they own county; for ploughs of excellent construction and workmanship, and which in the various localities, in which they are made are deemed equal to any that can be obtained, were exhibited from Tarves, Monymusk, Keith, Aberdeen, and Broughty Ferry, and varying in prices from £3 15s to £4 15s. Most if not all the articles exhibited in the class seemed excellent specimens of the two-horse swing plough.
Another article which seems to be manufactured of very excellent and substantial quality in Aberdeenshire is the broadcast sowing-machine for grain or grass seeds. The machines for these purposes exhibited by Messrs Simpson & Son, of Peterhead, and by Messrs Mitchell & Son, of the same place, the one at £14 10s, and the other at £13 15s, seem to leave little to be desired; and we know that for many years they have been found to work remarkably well in practice.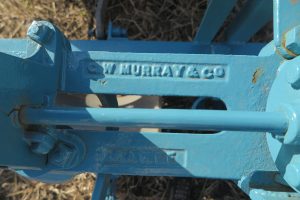 The drill sowing-machine has to found very much acceptance in Aberdeenshire. The three articles of this class exhibited did not appear to possess any superiority over the well-known East Lothian, or those made by Garret & Son, and several other English implement makers. 
We found no mention made in the Society's catalogue of drill-grubbers, or drill horse-hoes-certainly a remarkable omission in a part of the country so distinguished for the cultivation of turnips. Nevertheless, there were some five or six implements on the ground, which appeared to be intended to effect the important operation of drill hoeing by horse power. A suitable and efficient implement for this purpose is, or ought to be, one of the most important articles on the farm; and it is matter of surprise that so little attention seems to have been given to it-that nothing like an established or fixed form go drill-grubber or horse-hoe seems to be recognised in any part of the country. To this Aberdeenshire is certainly no exception; for some of the articles exhibited were very far indeed from being well-fitted to perform the operation in question; and in passing through the county at this season of the year, all sorts and forms of implements-some of them very primitive indeed-may be seen at work as drip-grubbers in the turnip fields. 
A drill grubber should have its tines and cutters so formed as to keep sufficient hold of the ground in clay or heavy soil, and should at the same time be so provided with wheels as prevent it from sinking too deeply in light land. Its guiding or front wheel should be so fixed as to keep steadily forward in a straight line. (A wheel fixed in the manner adopted in Wilkie's drill-grubber, figured on page 64, vol Ii, of Stephen's "Book of the Farm", 2nd ed, seems to be the best). Its tines and cutters should be of such form and placed at such an angle with the horizontal bars as not to carry weeds, but bring them to the surface, shake, and throw them off. Its cutters should have their edges of such form and position as not to slip harmlessly past thistles and other tenaciously rooted weeds; and it should be of such strength,a nd have tines (two of the cutters to be replaced by tines as occasion requires) of such form, as to stir up and loosen the soil between the drills in the same way, though not of course to the same depth, as is done by Tennant's grubber on the flat surface. It should, in fine, combine the operations of the hoe, grubber, and harrow, so far as these can be combined in one implement. 
All these requisite points or qualifications we found combined in a higher degree than we have been elsewhere in an implement exhibited at Aberdeen by Mr George Mackie, Dudwick, Aberdeenshire; and we believe we are doing the farmers of that turnip-growing county, as well as those in other districts, a service in calling their attention to it. We have excellent authority, moreover, for saying, that its operation in practice has been found highly efficient.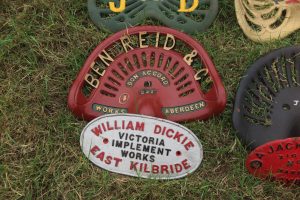 The farmers of the north only just seen beginning to find out the value of the horse rake for hay and stubble. Some of the well-known English-made horse-rakes were exhibited by Messrs B. Reid & Co., Aberdeen; and the local implement makers of Peterhead and Keith are prepared, it seems, to supply similar articles. Neither are the very excellent hand-rakes, mounted on two light wheels, and having spring steel teeth (each tooth acting independently), as made by Smith & Ashby, of Stamford, and others, sufficiently known in the north. Some good articles of the kind were, however, exhibited; one, very light, and, so far as we could judge, likely to be found efficient, by Mr J. Anderson, of Monifieth, Broughty Ferry.
The well-known turnip cutters of Samuelson, of Banbury; the excellent grain-bruisers of Turner of Ipswich; the straw-cutters of Samuelson, and of Richmond & Chandler, and a considerable number of other English-made implements and machines, all known to be the best of their kinds, were exhibited by Messrs B. Reid & Co., of Aberdeen. These gentlemen have, it seems, formed a sort of depot of English and Scotch made agricultural implements and machines-an undertaking which, it may be hoped, will turn to their advantage; for it is eminently calculated to be of service to the farmers of the district.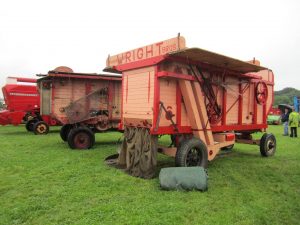 The Scotch thrashing mill was very early adopted, and has long been in almost universal use in Aberdeenshire. In very many cases the physical transformation of the county is such as to provide the farmers with wind-power for driving the threshing mill. Where that is not available, horse power is still in general use for thrashing. It is rather remarkable that men of som much energy and intelligence as the Aberdeenshire farmers should not have more readily seen the propriety of substituting the steam-engine for horse power. Cannot some of those firms in Aberdeen or Peterhead which turn out such excellent carts and ploughs, and afford also metal gearing for horse powers and threshing-mills, supply the agriculturists of the district with compact and well-made steam engines at moderate cost? We could have wished to see a neat fixed horizontal steam-engine of four or six-horse power (such as is, or had won't to be, shown at the English Society's meetings by Clayton & Shuttleworth, and Hornsby & Son) at work-provided steam could have been supplied from a portable boiler or otherwise-on the Links at Aberdeen. Such an addition to the Royal Northern Society's Show would have tended to draw the attention of the farmers of the district to what is perhaps the only department in which they are behind."