The machines for dressing tatties have come along way since the mid nineteenth century.
They had been simple affairs.  In 1875 P. & R. Fleming, Glasgow, sold a potato-riddler, invented by Sawney, for £3 10s.
By 1900 there were a range of riddles and machines available. Matthew Dunlop, Glasgow, sold Dunlop's potato screen, galvanised for the cost of £1 5s while P. & R. Fleming & Co., had a galvanised potato riddler at a cost of £1 7s 6d.  There were also potato sorting machines. John Scoular & Co., Stirling, had a new patent potato dressing riddle for £6 10s while A. & J. Main & Co Limited, Edinburgh, had a patent potato sorter for £7 10s.  Penney & Co Limited, engineers, Lincoln, had a potato separator and riddle which divides the potatoes into three sizes at one operation for £9.
A number of companies that made potato diggers started to also make potato sorters.  Noted names included Pollock of Mauchline, Ayrshire, (making a range of potato equipment in the 1870s), David Wilson, East Linton, East Lothian, and John Munro, Kirkcaldy, Fife.  In 1914, David Wilson was making and selling potato cleaning and sizing machines as well as potato washing machines and potato sporting boxes, a recent development.  Wilson had won an equal premium (with 3 other machines) at the all-important Highland and Agricultural Society of Scotland trials of potato digger or lifters in 1911.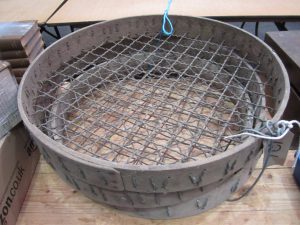 In 1939 potato sorters were made and sold by a number of makers.  J. L. & J. Ballach, Edinburgh, made the Ballach's potato sorter, new improved, with angle-iron frame and steel spared elevator.  Thomas Sherriff & Co., West Barns, East Lothian, had a power driven potato dressing machine. Eapecially popular were ones made by John Monro, Kirkcaldy, and Cooch & Son, Commercial Street, Northampton. Cooch's machines were sold in Scotland from at least 1914, by dealers such as Kemp & Nicholson, Stirling.  In 1939 Cooch exhibited six potato sorters at the Highland Show in Edinburgh, ranging from £7 10s to £60 for the potato sorter no 6A, with patent roller conveyor, feeding elevator, and petrol engine.
Cooch's machines remained popular in Scotland as did those of Munro.  By 1948 Kenneth Mckenzie & Sons, Evanton, Ross-shire, was to become associated with one of John Munro's potato sorters, the "Eclipse potato sorter no 3", which was the "outcome of forty-years' experience in the manufacture of potato sorters."  It is worth describing the machine, as it was entered for a New Implement award at the Highland Show in that year:
"This machine … delivers both seed and ware onto the conveyor, which is wider than on the earlier models, and which has a division up the centre thereby delivering seed size at one side and ware size at the other, where both can be hand-picked before being discharged into bags, four of which can be fitted at the delivery end.
The machine uses the flat riddle principle with a circular movement, resembling hand-riddling.  The potatoes do not suffer damage, and are better dressed and cleared than by other methods.
Although designed for power drive to handle large quantities of potatoes, the machine can be operated by hand in an emergency.
The machine and 1hp air cooled power unit with clutch are mounted on four large-sized wheels for travelling.  These are fitted with very strong endless conveyor chains with octagon revolving slats so constructed that they revolve, thereby continuously turning the potatoes over and over, enabling defective tubers to be removed."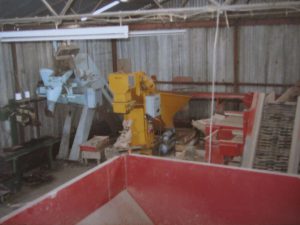 The experience of working at the tattie dressing changed greatly over the years.  Hand riddles represented an important step forward in dressing, as were the early sorters.  My father recollects, in the 1950s, turning the handle on the dresser to power the machine (and what hard work that was!); my mother the cold of standing at the dressing table in the "straw shed" and the women wearing the fur coats to keep warm after they were no longer in fashion.
My father invested in a new dressing line in the 1970s.  I spent many an evening at the 28lb and 56lb weighing machine while he was on the smaller bagging machine.  The work got me through my English exams at school – what a great way to learn all the literature quotations!  My mother spent nearly 40 years working at the dressing table on the winter evenings, and I spent nearly 20 years on the 28lb bags.  It was a far-cry from the earlier days at the tattie dressing.
Source: The riddle was photographed at the Scottish National Tractor Show, 2014, and the dressing shed at Pilmuir, Balerno, Midlothian, in the 1990s.
© 2016 Heather Holmes