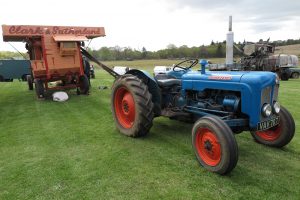 Clark & Sutherland of Smiddy Brae Works, Kingswells, Aberdeenshire, was established in 1947.  In 1955 it described itself as millwrights and engineers, cartwrights and bodybuilders.  In trade directories in that year the company was classified as agricultural engineers, machinery and equipment manufacturers, as well as threshing machine manufacturers.  By 1975 it carried on as millwrights and engineers, cartwrights and bodybuilders, coach painters and signwriters. 
The company was an active promoter of its manufactures, exhibiting them at the Highland Show from 1951, as well as advertising them in the Farming News and the Scottish Farmer.
The company has developed over the years.  An important change in the business was the dissolution of the partnership of Clark & Sutherland in 1975 when one of the partners, Alfred Clark, retired.  The remaining partners were William Sutherland and Peter John Wilson. It later became a company limited by guarantee.
Today it trades as Clark & Sutherland Ltd from Keith, Aberdeenshire.(http://clarkandsutherland.co.uk/about-us)
The photographs of Clark & Sutherland threshing machine and name plate were taken at the B.A. Vintage Country Fair, May 2016.
© 2016 Heather Holmes