Preparing food for livestock was, and still is, an important job over the winter months.  Hay had to be cut from stacks, or silage taken from clamps. Turnips were to be sliced or pulped, though livestock could also be put onto fields to eat the crop straight off it.  Broke tatties were taken from the dresser and sometimes cut up as well.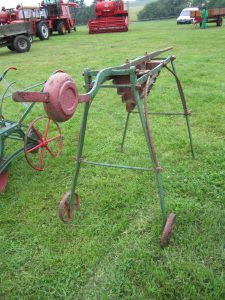 The cutting, slicing and pulping of turnips were important jobs, especially for young livestock that did not have fully formed teeth.  In Scotland turnip cutters or slicers were especially favoured.  Some designs were used for many decades: the lever turnip cutters or lever ball turnip cutters of the 1860s were still found on farms after the Second World War.  They comprised a cast iron frame with bars through which a turnip was forced and sliced when a lever with a weight came down on top of the turnip.
By the mid 1870s the most important implement and machine makers in Scotland were making their own turnip slicers.  They included Robert Peddie & Co., Tynecastle Iron Works, Edinburgh,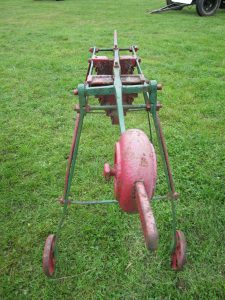 Andrew Pollock, Mauchline, Ben Reid & Co., Bon Accord Works, Aberdeen, John Wallace & Sons, Graham Square, Glasgow, Wingate & Lowe, Alloa, G. W Murray & Co., Banff Foundry, Banff, P. & R. Fleming & Co., 29 Argyle Street, Glasgow, Alexander Jack & Sons, Maybole, Kemp, Murray & Nicholson, Stirling, and A. & J. Main & Co., Scott Street, Port Dundas, Glasgow.
Most of their slicers were inexpensive.  In 1875 Alexander Jack & Sons sold lever turnip slicers for £2 2s.  Some models, such as one sold by P. & R. Fleming, sold for as much as £4.  Their designs varied so that they cut up the turnips into different sizes, and for either cattle or sheep.  There were also "improved" models, such as those sold by Ben Reid & Co.  By the mid 1870s some of the English makers were also designing, making and selling more complex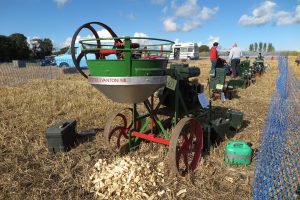 machines.  They were ones that came to be renowned for their food preparing machines not only in England, but were also widely used by Scottish farmers: Harrison, McGregor & Co., Albion Foundry, Leigh, Manchester, Samuelston & Co., Britannia Works, Banbury, Picksley, Sims & Company Limited, Bedford Foundry, Leigh, Lancashire and Richard Hornsby & Sons, Spittlegate Iron Works, Grantham.  Their machines included double action turnip cutters as well as treble action turnip cutters.  But there was one design that was especially important: that of Gardener's turnip cutter or Gardener's patent turnip cutter.  It was already well used and renowned in the 1840s.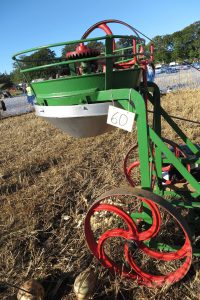 By the 1870s makers, such as Picksley, Sims & Company Ltd, were manufacturing turnip cutters in the "style" of Gardener's turnip cutter.  Even by the outbreak of the First World War that machine was still being made and sold.  For example, A. & J. Main & Co. Ltd,
Edinburgh, was selling "Gardner's sheep patent turnip cutter" for £5 10s.  The use of new forms on motive power on farms helped to improve designs and make the tasks of cutting, slicing and pulping turnips easier to undertake.  In 1914, John Wallace & Sons Ltd, Glasgow, was selling Mackenzie's patent portable turnip cutter, with motor (an Amanco engine), for the sum of £31 10s.  Kenneth MacKenzie of Evanton, Ross-shire, was to become well-known for his turnip cutters and potato sorters.  Even at that time, the majority of machines continued to be manually worked ones, and were on wheels.
Their character was to change significantly.  By the outbreak of the Second World War most of the turnip slicers that were exhibited at the Royal Highland Show were fitted with engines.  Most of the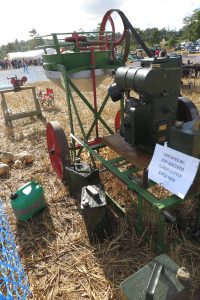 turnip slicers at the Show in 1939 were fitted with engines: those by Harrison, McGregor & Co. Ltd, James H. Steele, Edinburgh, Barclay, Ross & Hutchison Ltd, Aberdeen, Bamfords Ltd, Uttoxeter, E. H. Bentall & Co. Ltd, Gillies & Henderson, Edinburgh, George Henderson Ltd, Edinburgh and Kelso, and William Elder & Sons Ltd, Berwick on Tweed. Later, they were powered by electricity.
The photographs were taken at the New Deer Show, 2014, and at Daviot vintage rally, October 2016.
© 2016 Heather Holmes