The combine harvester brought about a revolution in grain handling on Scottish farms and changed the face of the stockyard. Where there were stacks there were now grain bins. These were accompanied by indoor granaries. In the early 1950s corn bins could be purchased from a small number of makers in Braitain. Most were English makers, through A. Newlands & Sons, Linlithgow, manufactured portable galvanised bins to hold 24 bushels, and David Ritchie, Whitehills, Forfar, manufactured indoor and portable field types, which were galvanised.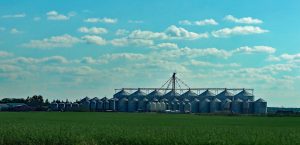 Some of the English makers ad been well-known manufacturers of iron work since at lest the middle of the nineteenth century. They included Fredk Braby & Co., Ltd, London. Braby also had a premises in Scotland from at least 1949, located on Petershill Road, Glasgow. By the following year the company also had works at Grahanston, Falkirk, and Motherwell. The company advertised itself as: "manufacturers of steel sheets, corrugated and dovetail sheets, black and galvanized; designers and fabricators of pressed steel stairs, locks, steel storage bins, shelving and steel partitions; also presse steel door frames and skirting's; sheet steel gutters, ridgings and flashings; steel barrows; tanks and plate work; steel buildings; steel windows &c also rollers of light steel bars and sections; manufacturers of 'Grip Brand' bar fed boilers". By 1960 the company specialised in making tanks, galvanised and rustless works; it also held large stocks of rustless furnace parts.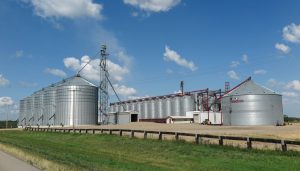 Another key English maker was Hill & Smith Ltd, Brierley Hill, Staffordshire. The company had premises in Scotland from at least 1859 until 1890. In 1859 its premises were at 23 St Enoch Square, Glasgow. It moved premises in 1866 to 195 Buchanan Street so that it could have "greatly increased space to show patterns and keep stock." It made a wide range of metal products including iron houses and roofs, iron fences and hurdles, iron gates, sheet iron, wire fences, wire stands, and iron girders. Other corn bin makers included Agricultural Supply Co., London, W. Corbett & Co., Wellington, Salop, and B. H. Wilson & Sons Ltd, Keighley, Yorkshire.
The photographs of the corn bins were taken in western Manitoba, Canada, July 2017.