If you are familiar with the Scottish ploughing scene, you will know the name of the plough maker Robert Begg & Sons, Dalry, Ayrshire.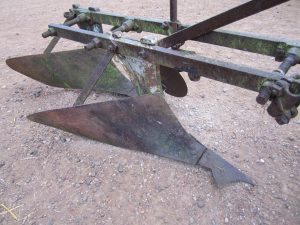 Robert Begg set up as a ploughmaker in Dalry, Ayrshire in 1864.  By 1914 he could advertise in The Scottish farmer: "R. Begg, 50 years reputation, Dalry, Ayrshire".
We know little of his early activities, though he was advertising his ploughs in the North British Agriculturist in April 1876.  By 1903 he is recorded as being an agricultural implement maker, a retail ironmonger, a smith and a smith and farrier.  By 1912 he was joined by his sons, naming his business Robert Begg & Sons.  It was run by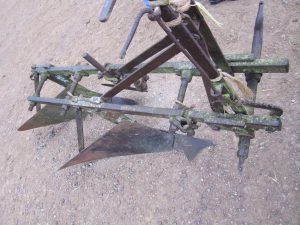 Robert Begg and his son John. Robert died in early 1927, and the business was carried on his son.  John died by 1941 and the business was transferred to Robert Wilson, Barrhead, who continued it under Begg's name.  In 1951 the business became incorporated as Robert Begg & Sons Limited, but was out of existence by October 1976 and was dissolved in the following year.
Begg's business was associated with Sharon Street, Dalry, where it is recorded in 1886 and into at least the 1950s.  From 1914 his address was the "Implement Works, Dalry."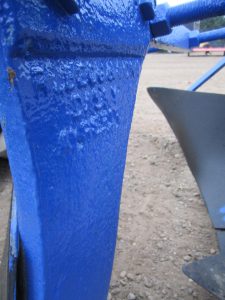 Robert Begg took an important step in developing his business in 1912 when he exhibited at his first Highland Show, held in that year at Cupar.  This was the start of an association with the show that continued, more or less continuously, until 1960.  Begg also took the important step of entering a plough into the Highland and Agricultural Society of Scotland's exhibition of farm tractors and tractor implements in 1922.  In following years, he also entered ploughs and other exhibits for the Society's new implement award: in 1923, a double furrow self-lift tractor plough with self-lifting gear, and in 1928, Falconer's patent mouldboard and Falconer's coulter.
While Begg's business changed with the times, so too did his ploughs.  In 1914, Robert made a range of ploughs which included drill ploughs, double furrow ploughs, as well as bar point chill ploughs and chill ploughs.  His chill ploughs were sold under the name "The Begg".
In 1926, Begg's ploughs included a double furrow-self lift tractor plough, with moveable points and swivel disc coulter (sold at £36 10s), a moveable point plough, with double wheels for lea and stubble ploughing (£10 10s), chill plough, plain beam, single wheel, for lea and stubble ploughing (£9).  As well as drill ploughs, he also sold baulking ploughs, diamond harrows, zig zag harrows, grubbers and drill harrows.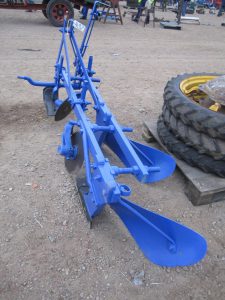 In 1956 the "Begg" tractor ploughs included power lift ploughs, single furrow general purpose; power lift, double furrow, general purpose, single furrow, bar point digger, single furrow, spring-loaded bar point, three furrow general purpose and double furrow with adjustable land wheel.
Begg's ploughs were also well-known on the ploughing match fields. For example, in 1925 it sold its "prize chill ploughs" and in 1928 and 1929 its "champion swing ploughs".
Today, you can still see Begg's ploughs at some of the ploughing matches and at vintage agricultural machinery rallies around the country.  Ask anyone who Begg was and they will say a leading ploughmaker from Ayrshire.
The photographs of of the Begg ploughs were taken at the Scottish National Tractor Show, Lanark, September 2014.
© 2016 Heather Holmes