If you were an Ayrshire farmer or agriculturist looking to purchase a range of implements and machines from local makers in 1949, you would have looked at the catalogue of Alexander Jack & Sons Ltd, Maybole.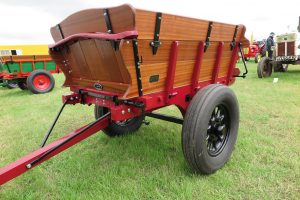 Jack had been famous for a range of implements and machines including potato diggers, hay machinery, and carts. The company continued to make these implements as well as others. They included: Tractor trailer, low loading, fitteed with Dunlop 7.50×10 pneumatic wheels, with tractor hitch and 8 in brake drums Cart and rick lifter combined, with Dunlop pneumatic wheels, 7.50×10 and horse shafts Coup cart no. 13, general purpose,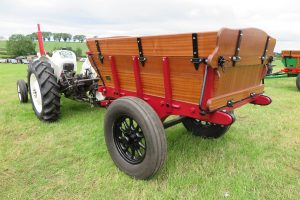 long body with 9 in side boards, Tractor hitch, 10 in brake drums, harvest wings, and front lever wheel Coup cart, no 9, 18 in hinged pattern, with 7 in side boards and Dunlop 8.00×19 wheels and axle Coup cart, no 6, 16 in with 7 in sideboards and Dunlop 8.00 x 19 wheels and axle Barrow, no. 3, farm, with Dunlop wheel Barrow, no. 1, 1/2 sack, with Dunlop wheels Barrow, no. 1, turnip, with Dunlop pneumatic wheels Truck,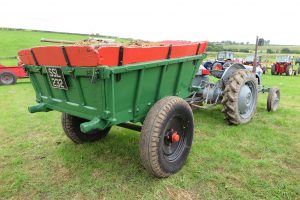 feed, with Dunlop wheels Hay collector for horse Hay sweep for Ferguson tractor Potato digger, Caledonian Manure distributor, no 3 Imperial "Ajax" distributor, for lime and slag  Plough and manure distributor and dibbler, triplex three drill for tractor draught Plough, manure distributor and dibbler,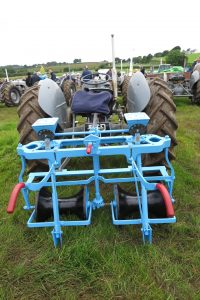 Triplex tree drill, for attachment to power lift on tractor  Three drill cleaner Weeder, for horse draught Weeder for tractor Disc drill scarifier for tractor power lift "Crown" horse hoe Three drill cultivator for horse Divider knife.
A wide selection of noted productions from an eminent Ayrshire implement maker!
The photographs were taken at the Ayr Vintage Rally, June 1015.