If you were a farmer or an agriculturist looking to purchase a turnip sower in the first decade of the twntieth century you could choose one from a number of makers.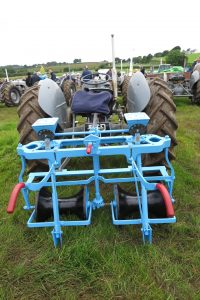 James Macdonald, writing in Stephens' Book of the Farm writes of turnip seed drills in 1908: "various have been the forms of turnip-sowing machines, and modes of distributing the seed. The old heavy square wooden-framed machine with its revolving seed-barrel, once so common, is now seldom seen. Its weight was useful in heavy soils, but it was cumbrous, and the seed-barrel required great care to give an equal delivery. The improved modern turnip-drill sowing-machine is light, elegant, and easily managed. It consists of a simple iron frame, with shafts, handles, two rollers, seed-boxes, spouts, and coulters. The arrangements for working the seed-boxes, and for regulating the quantity of seed deposited, vary considerably, but the better known drills are all thoroughly efficient and reliable in working. The modern machine, represents an excellent machine,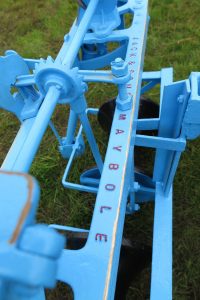 made by James Gordon, Castle Douglas. Most of these modern drills can also be arranged with larger boxes for the sowing of mangels. Rollers can be attached to the rear of the machine, but these are only sometimes used."
In 1903 makers included James Gordon, Castle Douglas, with an improved turnip and mangold drill (selling for £6 10s), as well as an improved one with patent coulters, also for the same price. Another renowned maker was Thomas Sherriff & Co, West Barns, with a machine that could also be combined with a trailing roller. Thomas Hunter & Sons, Implement Works, Maybole, had an improved turnip and mangold drill for £6 15s. Kemp & Nicholson, Scottish Central Works, Stirling, manufactured one row and two row turnip and mangold sowers. In the north-east, the most noted-maker was George Sellar & Son, Huntly, while Ben Reid & Co Ltd, Aberdeen also made a sower with rollers.
There were also locally important makers. In the south-west they included Murchie & Picken, Raider Works, Newton Stewart, which made a double-drill turnip sower, and Andrew Boyd, Noblehill, Dumfries. John Charlton & Son, Town Mills, Dumfries, was an agent for Lillie & Co., Berwick on Tweed, and sold their turnip and carrot drills.
If you were looking for a turnip sower, you could buy one from a number of leading makers in Scotland. You can still see a number of them in the rally fields across the country.
The photographs of the Jack of Maybole turnip seed drill were taken at the Ayrshire vintage rally, July 2016.