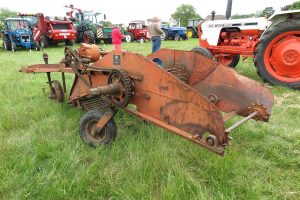 Elevators diggers were introduced into Britain from the United States in the 1930s. They had a number of advantages over the spinner differs: they did not scatter the potatoes as far and were thought to be more gentle than the spinner with its tines which threw the potatoes out of the drill.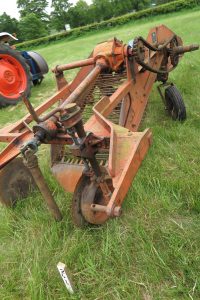 However, even by the 1950s the spinner digger continue to dominate the market for implements and machines to harvest the potato crop. There was a limited number of successful Scottish makers of elevator diggers. In 1952 the most important was John Wallace & Sons Ltd, Glasgow, with its tractor mounted digger. In addition, Jack Olding & Co. Ltd, Herts, which was to open Scottish offices, had its "Angus" elector digger for tractors. Another English maker that was also to open Scottish branches, and sell elevator diggers was Johnsons (Engineering) Ltd, March, Cambridgeshire.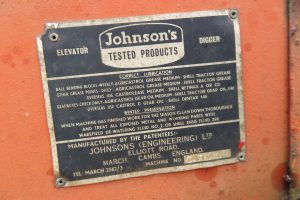 A decade later, the number of Scottish makers had not increased significantly, though there was a need for the potato harvest to be mechanised. In 1963 John Wallace & Sons Ltd, manufactured its "Wallace" trailed, single row elevator digger, its tractor mounted, single or two row machine and its semi-mounted single row. Jack Olding & Co. Ltd, continued to manufacture its "Angus" machine while Johnson's had a range of elevator diggers.
Have you noticed how few elevator diggers are around the Scottish rally fields? There are few by comparison to the large number of spinner diggers.
The photographs of the Johnson potato digger were taken at the Fife Vintage Agricultural Machinery Rally, June 2016.