If you were looking for a spinner digger until the mid 1960s you might have thought about buying one from J. Bisset & Sons, Blairgowrie.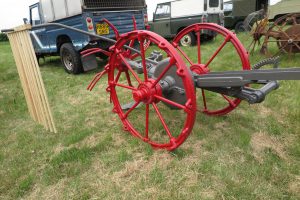 The company was a long-established one, already making agricultural implements and machines by 1867.  At that time it was based at Marlee, Blairgowrie.  By 1883 it had expanded and set up implement works, Greenbank Works, on the Dunkeld Road, Blairgowrie where it remained into the mid 1960s.
Its early manufactures included reaping machines and tattie diggers. It won awards for its reaping machines – a silver medal for a reaping machine from the Highland and Agricultural Society of Scotland in 1868; a silver medal for a self-delivery reaper at the Society's trials in 1873.  By the early 1890s it as the only Scottish maker of binders.
Its potato diggers were well-known at that Society's trials. One of its diggers was recommended for trial in 1871.  It entered the prestigious competitions in 1881 and 1911.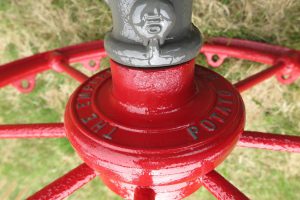 The Bisset name was associated with a number of models of spinners.  In 1912 they included the "Empire" pole potato digger which sold at £12.  There was also the Imperial pole potato digger for £15.  The New Champion potato digger sold for £12.
There are still a few Bisset potato diggers around the rally fields.  You might also see others from other major Scottish makers such as Alex Ballach & Sons, David Wilson, Alex Jack & Sons Ltd, J. D. Allan & Sons, George Sellar & Son, Kemp & Nicholson, H. W. Matchers & Sons, Barclay, Ross & Tough, and John Wallace & Sons Ltd, among others.
The photograph of the Bisset Empire potato digger was taken at the Fife Vintage Agricultural Machinery Club Farming Heritage Show and Annual Rally, Cupar, June 2016.
© 2016 Heather Holmes