The name Alex Baird & Sons, agricultural engineers, Annan, came to the wider attention of Scottish farmers in late January 1920 through an advert that it placed in both The Scottish Farmer and the North British Agriculturist.  Readers may remember its adverts from the 1950s and 1950s.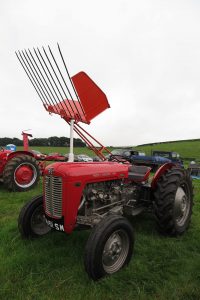 In 1922 the company was a retail ironmonger and a motor engineer. By 1928 it had extended its trades to include those as an electric light engineer and fitter.  It was not until 1936 that directories record it as an agricultural engineer; it also undertook the additional trades of being a mechancial engineer, a millwright and a motor engineer and a garage. 
It continued with these trades in following years.  In 1955 it acted as an agricultural engineer, implement, machinery and equipment dealer, agricultural ironmonger, electrical engineer and contractor, and tractor and implement agent and dealer.
The company also developed and expanded its business.  By 1931 it was trading in both Annan and Lockerbie.  By 1951 it had become a company limited by guarantee and in the following year the Farming News records it also at the Pleasance Implement Works, Dumfries.
The company had a number of dealerships for tractors.  By 1952 it was an agent for Fordson, also becoming a David Brown dealer by 1955. By 1965 it was a Massey Ferguson dealer.
Look out for the Baird name plate on Massey tractors around the rally field.  There are one or two of them out there!
The photographs of the Massey with a Baird name plate were taken at the Ayrshire VTMC rally, July 2016.
© 2016 Heather Holmes