Just think about how indispensable barrows are on the farm for moving foodstuffs and other produce around the farm.
If you were a farmer or agriculturist looking to purchase a new barrow in 1910 you could choose one from a number of makers in Scotland.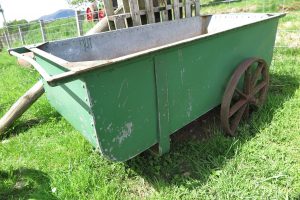 Gavin Calander, Dumfries, made a box barrow (which sold at £1 8s). William Wilson & Son, Plann Saw Mills, Crosshouse, Ayrshire, had a stable barrow with steel wheels. Others were made and sold by Charles Weir, Strathaven, Lanarkshire, and Thomas Gibson & Son, Edinburgh.
In 1952 makers inclued A. Newlands & Sons Ltd, Linlithgow, which sold galvanised barrows with a capacity f from 80-200 gallons. David Ritchie, Whitehills, Forfar, had food barrows with capacities that ranged from 60 to 150 gallons. John Wallace & Sons (Ayr) Ltd, Towhead Works, Ayr, also sold food barrows.
Though they were indispensable, you won't, however, see many barrows around the Scottish rally fields.
The photograph of the barrow was taken at the Highland Folk Museum, Newtonmore, May 2016.